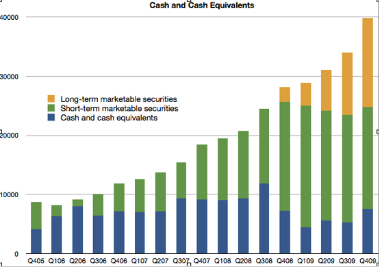 40 billion at end of 2009 shows acceleration over 2008. In 2008 Apple added $9.7B in cash while in 2009 it added $11.7B.
Apple still has no debt.
I consider it safe to assume that at least $10 billion will be added during 2010 for an end of year total of $50 billion.
To put that in perspective, there are only 76 companies (out of 2673 listed on Google finance) whose entire market cap is greater than $50B. Nokia is not one of them.