Data tracking firm Nielsen Co.'s quarterly survey found that, in the U.S. the iPhone added two percentage points for a 28% market share in the three months ended in late March compared to the previous quarter. RIM still had the biggest market share at 35% but it lost two percentage points in that period.

Phones that run on Google Inc.'s Android operating system also gained two percentage points for a market share of 9% over the same period, while Microsoft Corp.'s Windows Mobile phones lost two percentage points for a 19% share.
via Appetite for IPhone Continues Undiminished – Digits – WSJ.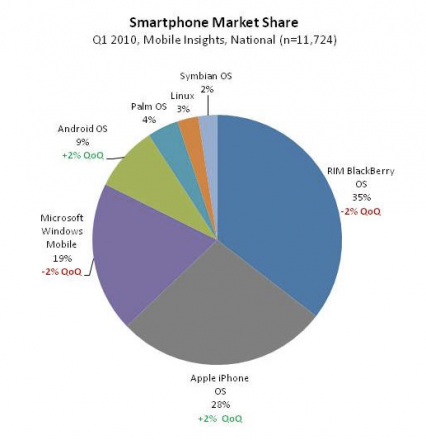 Although Android is often considered in competition with the iPhone, as we've shown in the past, the two are seldom competing for the same purchase decision.  From a distribution and business model point of view, the platforms are mostly non-overlapping.
The installed base data above shows that in their respective areas of competition: in the US, with the current operator channel, the iPhone is taking share from a similarly positioned platform (RIM) while Android is taking share from a similarly licensed alternative (Windows Mobile).