Many consider June 2007 to have been a pivotal moment in the history of mobile phones. Apple's entry with the iPhone has re-defined the market in many ways. However, there was a smartphone market before then. About 28 million smartphones shipped the quarter when Apple launched out of an overall phone market of 265 million. Apple's entry with 270k phones was a drop in the bucket.
I thought it would be instructive to chart what happened between that quarter, exactly three years ago and today. I collected the data from IDC, Gartner and Canalys and company reports to paint a few pictures.
First, the market shares (by units) of the top mobile vendors, Q207 vs. Q210. I highlighted the smartphone vendors by separating their wedges from the pie. Note that I also separated Nokia's smartphones from Nokia's regular phones as two separated wedges–Nokia ex-SP for no smartphones and Nokia SP as their "converged" units. I did the same with "other".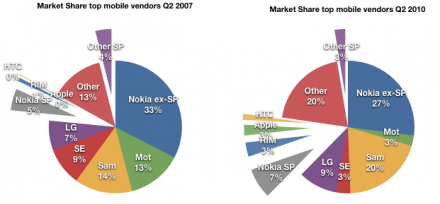 Continue reading "Visualizing the winners and losers of three years of smartphone share growth"