Microsoft executives told Goldberg during a recent visit to company headquarters that the company, carriers, and manufacturing partners, would spend "billions" of dollars in the first year on marketing and development of Windows Phone 7. Another source estimated a $1 billion price tag for the launch, with half of it going to marketing.
via AppleInsider | Microsoft to spend over $500m to catch up to iPhone, Android.
Note the scale of spending here.  The number quoted is twice Apple's yearly ad budget, for all its products.
$500 million is roughly the equivalent of Apple's entire advertising budget for its 2009 fiscal year. In its 2009 Form 10-K filing to the SEC, the Cupertino, Calif., company listed $501 million in advertising expenses. Microsoft's fiscal 2009 advertising budget was $1.4 billion.
But beside the unrepentant destruction of Microsoft's shareholder wealth, one other thing jumps out at me: why are the operators and vendors going along with this?
Fragmentation increases the cost of development, marketing, operations and hinders the creation of cohesive ecosystems.
Most companies are very aggressive in consolidating around internal platforms and standards. Supporting R&D teams and marketing teams around each platform is costly and dilutive to one's brand.
With hundreds of Android devices and RIM and Apple increasing distribution, why would operators be willing to spend hundreds on a venture to promote a new platform? This decision is even more puzzling when realizing that the vendor of the new platform left nothing but business model carcasses behind the last time they got involved in the industry.
In addition the positioning of this product is suspiciously awkward. One could argue that as a vendor or operator, having an unaddressed or underserved market (say, business users) might mean this platform could expand the distribution of your product or service. But Windows Phone is being positioned as a consumer brand and that's a crowded space where every other platform is also targeted. See the survey data below (unconfirmed source: US Army)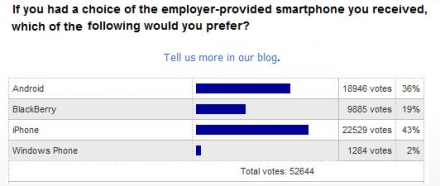 So again, why would operators and licensees spend hundreds of millions to introduce yet another platform in the market?
Maybe they are just taking Microsoft for a ride.