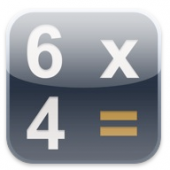 Sometimes you come across such a simple yet clever app that it changes the way you do the most basic tasks. I've relied on the calculator widget on my Mac thousands of times to get quick answers to basic analysis questions. It's much easier to press the F4 button than launch a spreadsheet. However you quickly run into the limitations of a simple calculator. Multi Calc 6×4 is a clever idea of having up to six linked calculators available on your desk at any time. From a work-flow point of view it sits between a spreadsheet and a calculator. You can do complex multi-step calculations without learning a new UI.
Every result from a calculator can be dragged to another with just press-and-hold touch. No more need for "memory" functions. This is the sort of improvement in a basic, everyday tool that only a large screen and touch interface can enable.
$1.99 on the App store.
Buy it and help support Asymco.