The phone market excluding smartphones is not growing. Over a three year period it grew at 2% compounded.
The following chart show the make-up of the market by vendor.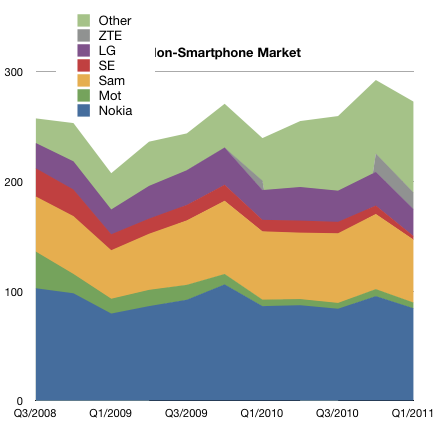 Since it is not expanding rapidly, share over time has a lot more meaning.
The change in share over the last few years (since Q3 2008) is shown in the following two pie charts: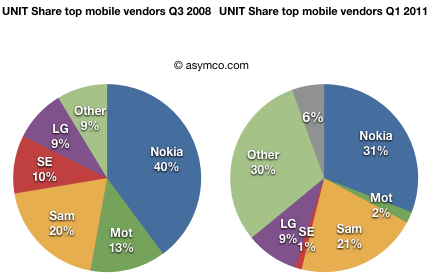 Although many will argue that the non-smart market is one of great opportunity, the historic data shows that the market is not vibrant:
It's growing slowly if at all
Prices are falling as buyers find nothing of value in new products
There are fewer branded competitors (from 5 to 3)
There is increasing "white label" or unbranded volume growth (from less than 10% to over 30% share in three years)
Although low end entries (in this case the unbranded new vendors) can signal disruptive potential, that potential is unlikely to manifest itself in voice-oriented products. Low-end disruptions take hold when markets are overshooting the expectations of the majority of buyers and incumbents are motivated to exit.
However, if we consider all phones as a single market, then there is vast under-performance in the high end–something another set of entrants have taken advantage of and something neither the incumbents nor the low-end entrants are motivated or capable of pursuing.
The phone market is not being disrupted because of the low end entrants. Nokia and Samsung are motivated to compete for those customers. It's being disrupted because the new market of mobile computing is completely asymmetric.