Apple loves to talk about its stores. They do it in every conference call, keynote event and SEC filing. There is a monotony with the repetition of how many they have and how many they are building and how pretty they are. They start to seem like commodities.
But if they were commodities why aren't there any other networks of successful "vendor stores"?
The answer is partly in the odd integrated business model Apple maintains asymmetric to every other modular technology provider. Apple seems to want to control the relationship with the buyer. It's also partly in the uniqueness of design, an obsession with the brand. But still, that does not explain why can't it be copied.
The answer is in the economics.
To understand the cost of developing an Apple store, we turn again to the balance sheet. Fortunately for us, Apple reports details of a particular asset called "Leasehold Improvements." It's a substantial asset worth over $2.3 billion in the last statement. It represents "alterations made to rental premises in order to customize it for the specific needs of a tenant."
The following chart shows the change in that figure quarter-over-quarter.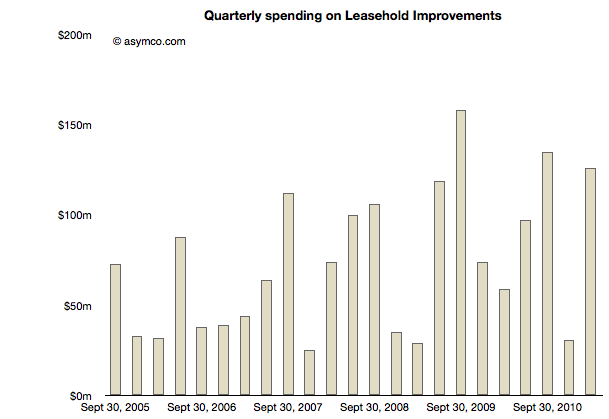 Can we tie these expenditures directly to stores?