I still have a professional camera, the legendary Canon 1D with a few L series lenses. I've also carried phones with cameras since about 2002. But they were never good enough. When it came to photos I am one of those "highly demanding" consumers at the top of the market who looks down on disruptive low-end products. An SLR with a two pound lens was the only way I could be satisfied.
However, like the theory suggests, even the most demanding customers succumb to the new disruptive technology. For me it happened with the iPhone 4. I've been very happy with almost all photos taken with it. I really appreciated the HDR function and the HD video which my old camera could not do.
There is however something that is missing. The ability to take crisp pictures in low light or to shoot video without camera motion requires a tripod. I've envied some of the rigs that allow tripod mounting of iPhones but they've all looked bulky and expensive, defeating the "always with you" value proposition of the phone camera. If I would take a rig with me, I might as well pack the D1.
That is until I came across the Glif. The Glif is an extremely small and simple accessory for mounting your iPhone 4 or 4S to any standard tripod. It doubles as a little kickstand to prop your iPhone up for watching movies, using FaceTime, etc. The packaging even doubles as its own little bipod.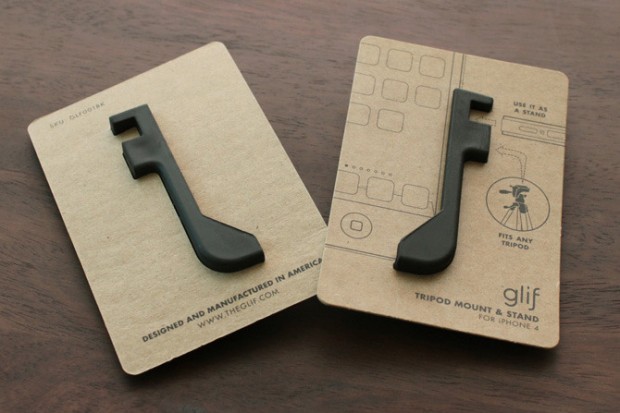 The clever design means that you can take it with you all the time. They've even made it a lot easier with with Ligature, a keychain loop that means you take it with you whenever you take your keys. They've also added Serif, an additional attachment to keep your iPhone super secure in extreme situations (like on a bike mount). The package of Glif, Serif and Ligature is called Glif+.
They are also offering the +Pack, for those of you that already own a Glif and just want the add-ons. Both are available for preorder now, and will ship in 1-2 weeks just in time for the holidays.
Do check out the videos on the site. I have received recommendations for this product on Twitter so it seems to be well liked by users. To me it looks really amazing and even though they are a sponsor I bought two.
Available now at StudioNeat for a very reasonable price.