Before diving into the answer to the question in the title, there is some new data to digest.
The latest from comScore shows consistency with the previous months of smartphone growth in the US.
The growth rate was 607k/wk new-to-smartphone users. This is slightly down from 654k/wk for the previous month but up significantly from 450k/wk the year before.
The penetration of smartphones reached 38.5% (non-smartphones are at 62%)
The penetration should reach 50% before September 2012 with about 1.2% being converted every month.
The following chart shows the weekly add rate with a three-period moving average: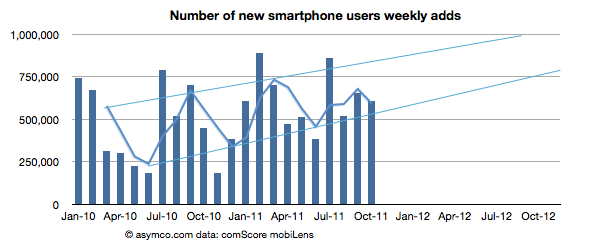 This chart is important in that it should first show signs of inflection in growth.