As the chart below shows, the last quarter (first calendar 2012, second fiscal 2012) was robust with 94% earnings growth and 59% net sales growth. Subject to the usual superlatives, the performance was, again, unexpected by many.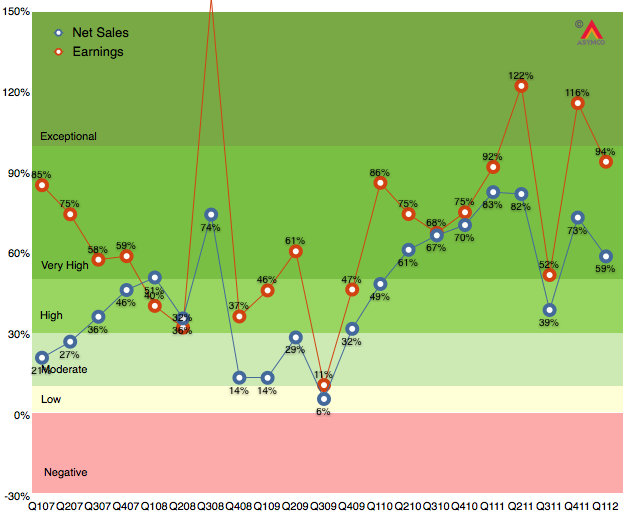 Much of that surprise was due to the underestimation of iPhone sales in China during what is a holiday quarter in that nation. Growth this quarter will be more difficult to estimate. The iPhone is still the most important component but the iPad is becoming increasingly decisive in overall performance. In fact, I'm projecting that the iPad will have the equivalent of 73% of the iPhone revenues this quarter.
In this quarter the iPhone is reaching a late stage in its launch cycle but it continues to reach more points of purchase through distribution agreements and it also has a "portfolio" in terms of multiple price points and models available.
The iPad was supply constrained last quarter and may be in balance this quarter. Management has very clearly and repeatedly signaled that the iPad will have a very strong quarter.
So with these clues, here are my estimates for the quarter (with y/y growth in parentheses):
iPhone units: 28.5 million (40%)
Macs: 4.5 million (15%)
iPads: 24 million (160%)
iPods: 6 million (-20%)
Music (incl. app) rev. growth: 35%
Peripherals rev. growth: 20%
Software rev. growth: 15%
Total revenues: $41.9 billion (46%)
GM: 44.8%
EPS: $11.54 (48%)
This earnings value would imply a trailing twelve months' EPS of about $44.8. At the current price of $571/share the P/E would be 12.7[1]. Cash and equivalents will probably increase to $118 billion.
—
Apple's P/E also dropped to 12.7 around Christmas 2008. I did a search for some headlines to recall that time and came across one that seems appropriate: "Unrest Caused By Bad Economy May Require [domestic] Military Action, Says US Report".