At the 2012 WWDC, Apple released new data concerning its App ecosystem. Namely:
30 billion apps downloaded to date (excluding updates)
$5 billion paid to app developers
400 million iTunes accounts
These three data points allow us to update our picture of the app economy. First, the app download rate.
As would be expected from an expanding user base, the app download rate has been increasing. It is now at about 49.5 million apps downloaded every day. The history of this rate is shown in the chart below: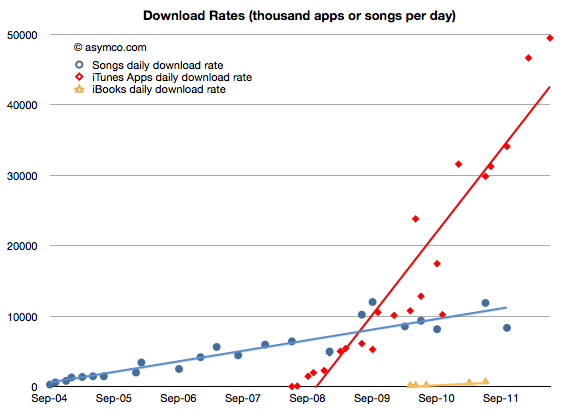 I added the same data for iTunes songs and book downloads for comparison. Note that although music and books are available to the same user base (actually higher due to Macs and iPods which do not run apps,) apps are being downloaded at a far faster rate–at least four times faster.
In terms of total, cumulative downloads, the comparison is even more stark: