Apple's renaissance began with the iPod. This was not evident right away however. The product was unveiled on October 23, 2001 at a time when Apple's share price had just fallen 70% from year-earlier levels. It was perhaps a good point from which one could expect a recovery to begin.
It was not to be. One year after the iPod's launch the stock price had fallen another 20%. Indeed during 2001 the company was in the throes of a "bear market" in its shares. If we measure a time of persistent share price reduction as a bear market, then the one in 2001 was significant. For 154 days, between April 27 and September 28, 2001 the shares fell 38%. This represents the first bar in the following graph showing all the Apple bear markets since then.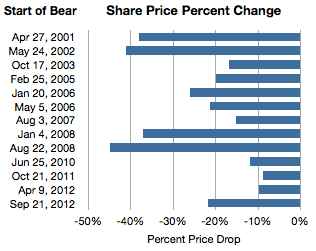 I also illustrated these bear markets in terms of their duration and the average %drop/day.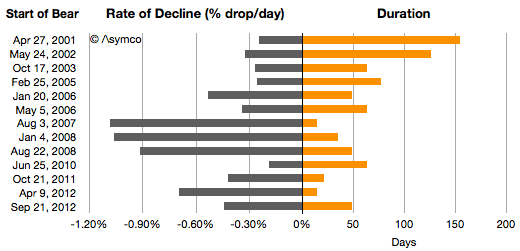 Chronicling these periods: