As it did yesterday, on occasion Apple reports the cumulative total downloads and payments to developers. Since this is done in variable time intervals, it makes analysis of the value of the app store difficult.
But not impossible.
The provision of developer revenues means we can determine the pricing of apps. The pricing of apps and the download totals allows us to determine the revenue of the store. Using the time stamps of the reports allows us to determine these quantities over time.
I've combined the data we have so far into the following graph.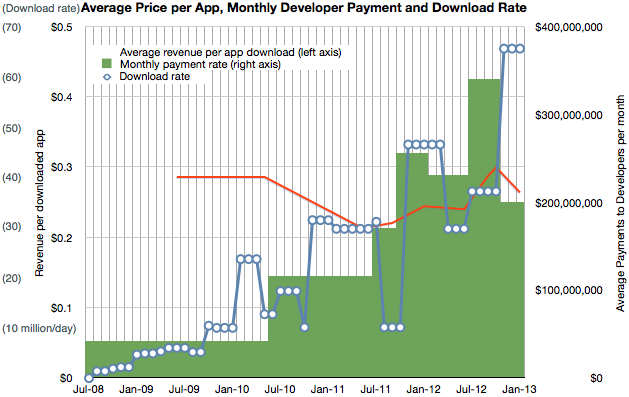 It shows three quantities (on three separate scales) at a monthly resolution:
Download rate (in millions/day, interpolated from download totals)
Payment rate to developers (reported change in payment to developers/reported time interval)
Resulting revenue per download (in red, trailing average over a 10 month period)
Having a price and quantity of app downloads allows for a complete picture of App Store revenues over time, shown below: