In the Innovator's Curse I reflected on the fact that a serial innovator cannot be efficiently financed or even rewarded for having figured out how to repeatably create. If anything, a serial innovator has to suffer a discount to peers who do not habitually (or ever) innovate. The innovation process is the proverbial goose that lays the golden eggs but is destined to perish due to the lack of faith in its existence.
So how can I back this up?
To start, this is partially evidenced in this graph of Apple's price to earnings ratio since 2006 vs. the S&P 500's. The S&P reflects the 500 largest companies in the US and is thus a proxy for the "average" company.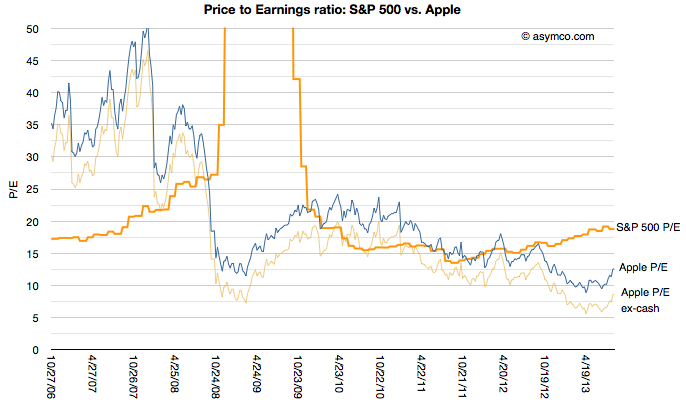 [I added Apple's P/E excluding cash for additional perspective.]
The graph shows that during the period of time when iPhone and iPad changed computing and telecommunications, Apple was mostly held in contempt: the profits it was generating were not considered of "sufficient quality" relative to an average company. Since markets look forward, not backward (one assumes), the vote cast is decidedly that success cannot be repeated. Put another way: you can trust that a soft drink maker like Coca Cola (P/E of 19) or a utility like ConEd (P/E of 18) will continue in the manner we've seen them perform in the last year more than Apple (P/E of 12) will.
I can offer yet another way to consider this curse.