When looking at the Race to a Billion data I noticed that some platform adoption ramps look quite different from others. It's not just a matter of "slope" or rate of growth but a distinctly different shape.
If you look at the graph below you might see the difference yourself.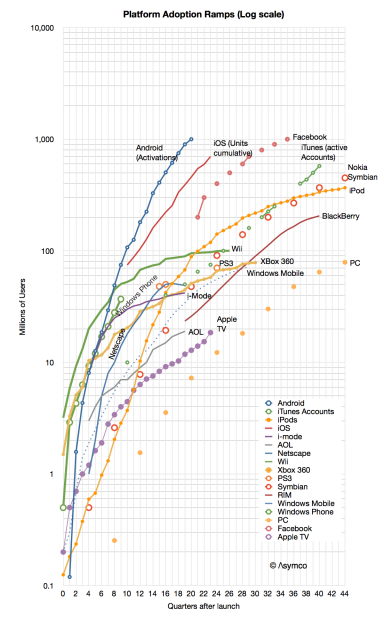 First, note that the graph is logarithmic. A straight line on a log chart implies exponential growth (the y values are a constant to the power of the x value). However, none of the graphs show straight lines. None of the platforms follow exponential growth1.
Second, we can eliminate linear or logarithmic functions. They simply do not fit.
That leaves: polynomial or power. It's easy to test these alternatives for all the functions and it becomes clear that most of the platforms split into one of these two classes.
Except perhaps in the very early periods [↩]