In the graph below the grey circles represent the US penetration (percentage of households which own) MP3 players.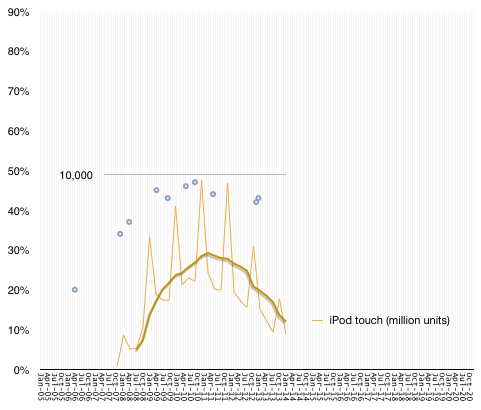 Superimposed on this sparse sample graph is a line showing the sales of iPod touch. This second graph has a different scale, shown with a gridline at 10,000, representing millions of units shipped by Apple. To smooth out seasonality I show the trailing four quarter average with a thick line.
The correlation is fairly evident. As iPod sales grew, penetration grew and "peak MP3" was recorded in September 2010 while peak sales occurred at the end of that year.
It's not a stretch to say that iPod touch sales are causal to MP3 penetration, especially since the iPod has remained the market share leader in the segment for a long time (at least 70% share) and that the iPod touch is consistently half or more of the iPod.
The absence of data for penetration beyond 2012 is therefore not a problem. We can assume that MP3 devices have a finite lifespan and, if not replaced, the penetration will decline.
I modeled both the increase and decline with a diffusion curve as follows: