This year's Thanksgiving and Black Friday data from IBM shows a continuing pattern of growth for mobile devices. As the graph below shows, in the five years since 2010 mobile devices grew from 5% of the online shopping traffic to 50%.  Traditional computing (desktop and laptop) made up the difference.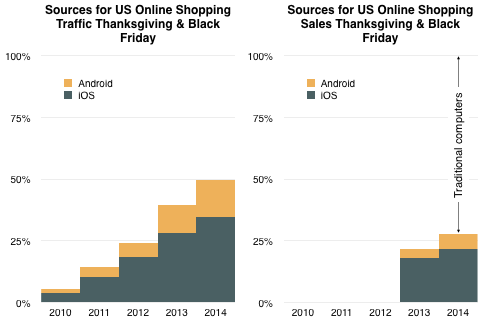 The graph also shows that sales value via mobile devices crossed over 25% of online spending. The fact that mobile shopping is not equal to mobile spending is due to the convenience factor of mobile. It's more likely that users will spend idle time scanning for bargains or tracking down ideas from friends but wait until they are at home to make the final purchase decisions in front of a computer.
The transition to spending directly from a device is a slower process, but that process was also one that online had to undertake as buyers became comfortable with online commerce. When it comes to payment, buyers are understandably more cautious.
This does not change the prediction made last year that "the transition to post-PC consumption will also be practically completed by 2020". That leaves six years for mobile saturation and a total transition time of one decade.
At that point I expect 90% of browsing and perhaps 75% of spending to be happening on devices. Some of this will undoubtedly be enabled by biometric authentication as shown by Apple Pay. Trust and ease of use in this technology will undoubtedly accelerate the transition making mobile payments more comfortable and secure than on the legacy computer.
What is less predictable is how much those devices will also be used to transact payments for the physical retail stores. In some scenarios it's possible that by 2020 a majority of all shopping will be enabled by devices.1 That would subjugate the retail segment to the power politics of mobile platforms.
It is interesting therefore to note the mix between the platforms in the graphs above.
There is also the matter of in-store discovery and advertising via NFC and bluetooth i.e. iBeacon [↩]