Apple's new watches are priced in a pattern unlike any of the previous pricing models for Apple products.
Previous pricing models for iPhone, iPad, Mac and iPod were typically structured around storage differences. The higher the storage, the higher the price. The Mac had a slight variation where processor and graphics offered some additional configuration options. To illustrate, the graph below shows typical price bands for the iPhone (2011 and 2012)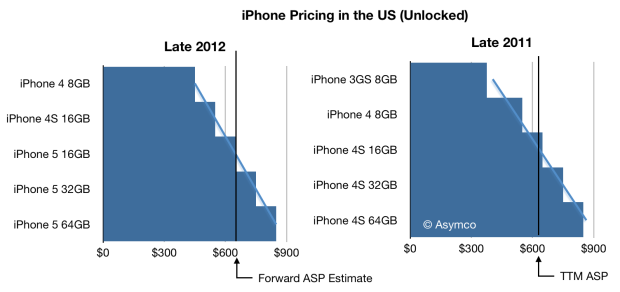 In contrast, the watches are differentiated by size, materials and bands. There are also a total of 38 watch configurations available at launch (SKUs) and another 38 bands that can be purchased separately.
The bands come in four price points and the watches in 15. Of these 15 watch prices, four are dramatically different. The pricing of the watches is shown in the two graphs below (with and without the Edition).