The fact that the iPhone is contributing over 90% of the operating profits in mobile phone sales has penetrated even as far as the Wall Street Journal. However, it's not yet commonly known that the Mac captures a majority of personal computer operating profits, at least when considering the sale of hardware.
My calculations suggest at least 60% of operating margin in personal computing hardware is captured by Apple. This is mainly due to the fact that the average Mac sells for more than $1200 while the average PC sells for less than $450.That is equivalent to $1.5 billion per quarter for Apple vs. $930 million for all the other PC makers combined.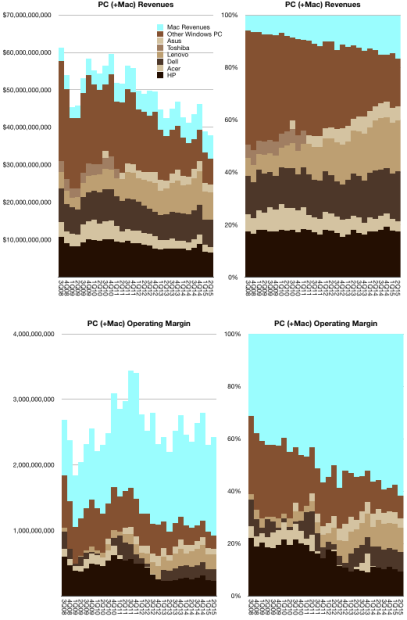 If we are to consider the iPad as a "PC equivalent" computer[1] then another $billion/quarter is contributed to the profit pool. It increases Apple's share of profits to 73%. As a result, Apple absolutely dominates computing profits.
Notes:
for a substantial minority of tasks [↩]