In my quoting of the "Cook Doctrine" I cited the primary criteria for Apple to enter a new market:
We believe that we need to own and control the primary technologies behind the products we make, and participate only in markets where we can make a significant contribution.
These criteria, often repeated, were certainly in force when Apple chose to enter the watch market. Apple has sought and achieved a significant market share and did so while owning and controlling the primary technologies behind the product.
I now turn to the significant contribution criterion to study the possibility of Apple's entry into the car industry.[1]
The significance test shifts the speculation from whether Apple would build a car, to how many cars is could build. Making a few cars is easy (see first commandment of The Entrant's Guide to the Automotive Industry). Making lots of cars is hard and hence significance in the automotive market (as in watches and phones) means achieving some degree of adoption, a higher degree of usage and a very high degree of profitability.
So what does being significant in the car business mean? Does it mean becoming the next Tesla? The next BYD or the next VW? How quickly?
Fortunately, we have something to compare an Apple entry to. Apple has made a "significant" market entry in phones and others have made entries in cars. If we contrast the rate of growth of Tesla, EVs, and Hybrids[2] to the rate of growth of iPhones in their respective US markets, we obtain a test of significance: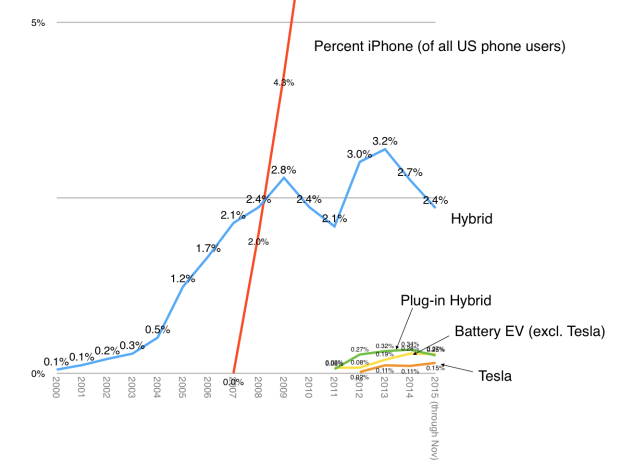 The graph shows the percent of sales for the alternative car technologies (and Tesla) vs. the percent of US phone users using iPhones (comScore). Here are the conclusions:
Notes:
Control of the primary technologies behind the product is a topic for another post. [↩]
Of which Toyota has 70% to 80% share [↩]