In Apple's first 40 years it shipped 1,591,092,250 computers1.
This shipment total is higher than any other computer company in its first 40 years. Actually there are no other PC makers that are 40 years old. One computer maker (IBM) is older but they only sold PCs for 24 years and what they still sell they don't sell in high numbers.
That does not make it the top seller in a given year. Looking at only the Mac, Apple's traditional form factor personal computer, Apple has only returned to the top 5 last year. Only if including the iPad it was the top computer vendor in 2011 and including iPhone, it was first in 2009.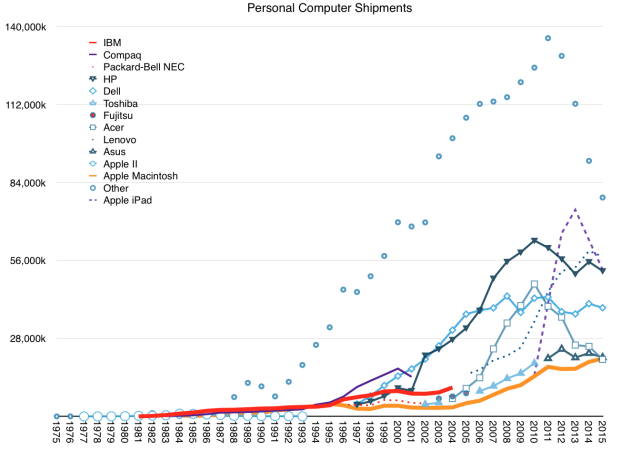 After having a 40 year run and after selling more computers than all American and Japanese computer companies put together, how should we think about the next 40 years?
First, clearly Apple shifted from being a "computer company". It has already changed its name to exclude the word "Computer" but that has been interpreted as saying that it sells devices (which happen to also be computers.) The word "computer" is already archaic. We stopped using computers to compute in the 40s. We used them to make decisions, keep track of things, speed things up and then to communicate and then to entertain.
Devices, it seems, are what customers mainly use to do, well, everything. Computing has grown to encompass most activities we engage in. So is Apple then a device maker?
including Apple II, Mac, iPhone, iPad and iPod touch; excluding Apple Watch, Apple TV and other iPods. Includes Q1 shipments estimated at 63,597,000 Macs, iPhones and iPads [↩]