Managing the Mac product line must be one of the most challenging problems at Apple. That may not be obvious given the product's success. Consider what it has achieved:
The product is in its 32nd year of market presence. A longevity that in unmatched by any other PC maker.
Apple reached a top five position in the ranking of PC vendors. This was achieved for the first time only this year, far along in the evolution of the market.
With about $23 billion in revenues per year, Apple places among the top four PC vendors in terms of revenue.
With an estimated $5.5 billion in operating margin Apple is the most profitable PC vendor, capturing over 60% of the available PC hardware profits.
The product has retained an average selling price of over $1200 for at least a decade. At the same time the average pricing of Personal Computers has more than halved.
Although volumes have fallen for three quarters, the product grew volumes and sales for 22 out of 29 quarters. As a result, volumes almost doubled in eight years.[1]
The contribution of the Mac to Apple's revenues is shown in the following graph.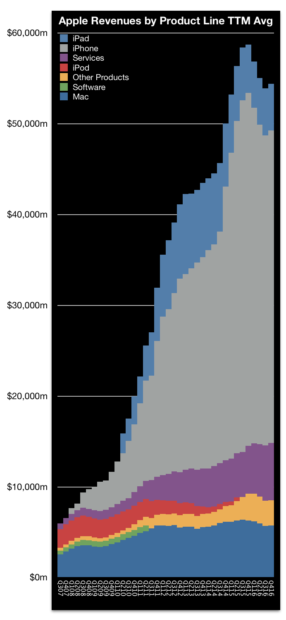 It's attractive and convenient to contrast the Mac with the rest of the PC industry. A David vs. Goliath tale of redemption. The classic comeback story. But the split between the two old rivals (Windows/MacOS) focuses the mind into a limited view of the computing market. The big change in computing has not been a growing Mac vs. declining PC. It has been a huge surge in mobile device use vs. a decline in PC use overall.
This data is visible in many ways. Browsing data shows mobile overtook PC use this year. Shopping data around Black Friday points in the same direction. Data on user interaction captured by comScore is shown below[2]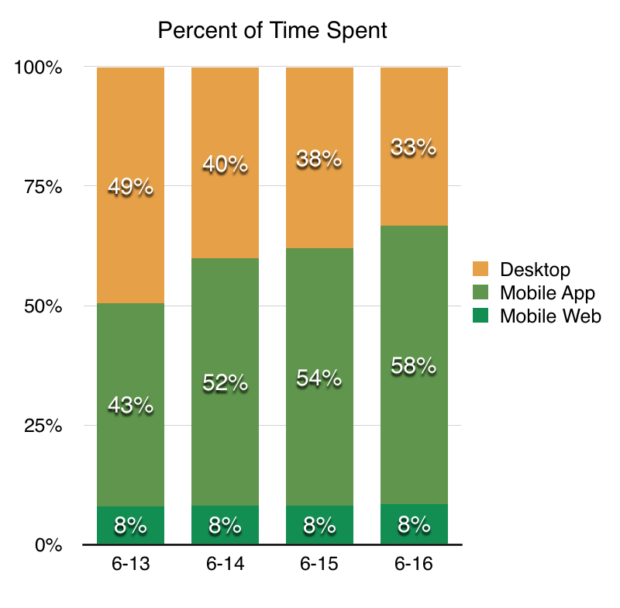 PC use went from half to a third of time while mobile went the other way: from a third to half of time within only four years. All the data is consistent: mobile use has swept PC use aside.
Notes:
The unit volumes in third quarter 2008 were 2.6 million. Eight years later they are 4.9 million and could easily be over 5 million in the holiday quarter. [↩]
Although US only, the global picture is likely to be even more skewed toward mobile as PC didn't saturated global markets before the smartphone swept to power. [↩]