From the way Apple reports its revenues you might think that the company has several operating segments. There are the iPhone, the Mac, the iPad for which units and revenues are reported. Then there are Services and Other Products for which we have revenues only.
Services is a collection of all non-hardware revenues and is (finally) being recognized as a non-trivial business. With reported revenues of $26.6 billion in the last twelve months, it's big enough to be a Fortune 100 company and set to double in four years.[1]
That leaves "Other Products" which now becomes the revenue segment that is  "most likely to be ignored." This segment had revenues of only about $11.5 billion in the last 12 months which would place it at only a Fortune 245 ranking, equivalent to a Toys "R" Us or Biogen. How should we value Other Products?
Other includes many hardware products including iPod, Apple TV, Beats, Apple Watch, AirPods and, soon, HomePod. Each is a significant product, with Watch probably the largest single contributor. But since we don't have specific unit numbers, we are left guessing at the contribution of each.
The Watch itself has been a point of scrutiny as it could be initially teased out of the mix through an observation of the before-and-after launch vs. trend-line as shown below: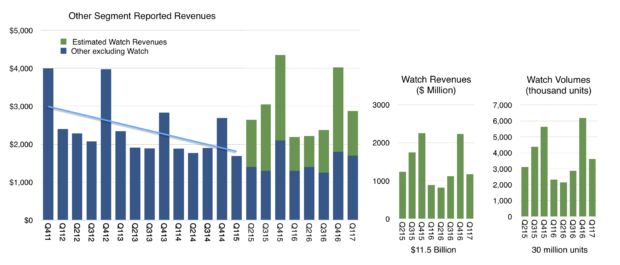 This separation of Watch became harder to discern after the launch of AirPods. Though they are still very hard to obtain, they might be "moving the needle" by now with a contribution that would muddy the Other category further. Same with updated Beats headphones.
Notes:
Although a non-zero business, the valuation of Services continues to confound observers who cannot separate it from the hardware businesses it attaches to–which themselves are considered near commodity value–thus paradoxically valuing the overlying asset of Services near or precisely at zero. Incidentally, Facebook is Fortune 98 at $27.3 billion and it is also one of the top 5 largest business by market capitalization. [↩]