Dec 2, '13 10:10 PM
A history of retail as a series of innovations in transportation. How to think about Amazon in a continuum of changing consumer behavior. The source of Amazon's market power and its hypothetical disruption. What would Amazon do and not do to improve its business.
via 5by5 | The Critical Path #103: The Amazon Electric Car.
(Note:  This recording took place a few days before  Amazon announced the drone-based Prime Air prototype service.)
Dec 2, '13 9:57 PM
A history of Cinema as seen through disruptive lenses. How did the medium evolve from novelty to experimentation to establishment of a predominant business model to concentration of power, regulation and ultimate stagnation. How to measure "performance" of a medium via the median age of the audience and how that affects the advertiser's calculus.
via 5by5 | The Critical Path #102: The Advertiser's Dilemma.
Dec 2, '13 3:04 PM
Fracture prints your photo in vivid color directly on glass. It's a picture, frame, & mount all in one.
It's a modern, elegant, and affordable way to print and display your favorite memories. Your print comes with everything you need to display your photo, right in the durable packaging.
Fractures come in a variety of sizes and prices, starting at just $12, with free shipping on orders of $100 or more.
Fracture prints make great Christmas gifts and are the perfect way to fill up empty walls in your new home or apartment. Check it out.
Dec 2, '13 2:46 PM
IBM Digital Analytics Benchmark (report is here) has published, for the fourth year in a row, US online shopping traffic data with a split between mobile and fixed online traffic. It reveals a pattern of consumer behavior which is quite startling: people seem to prefer to shop using mobile devices.
The data is shown below: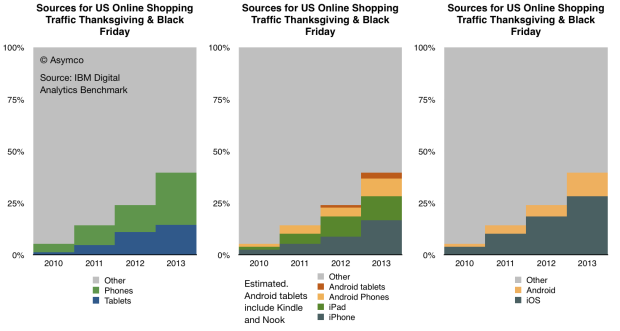 Nov 25, '13 3:34 PM
iOS unit sales crossed over 700 million units last month. That is a significant milestone but the total number of units in use is likely to be lower. My estimate based on device replacement assumptions is that about 500 million are still in use.
The estimated break-down of units sold and in use by device type is shown below: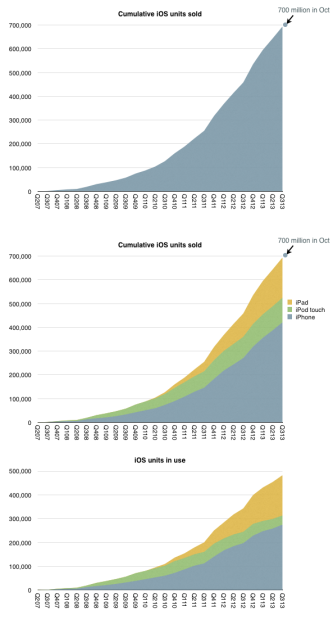 Nov 21, '13 7:56 PM
Voila is the most powerful screen capturing software available for your Mac. Voila lets you capture and record content and then easily share it with friends and co-workers or upload it to the web.
Voila is the perfect screen recorder for your Mac. You can easily make high-quality product demos, DIY app simulations, and tutorials. Create interactive content by recording your Mac screen along with audio and all your click streams. Then complete your screencast by annotating your screenshots with professional tools and features. Record like a pro and publish your final project to FTP/SFTP, Tumblr, Dropbox, Evernote, and YouTube with Voila.
Made for Mavericks, Voila is simple and intuitive. With Voila, keep your captures organized and within your reach while enjoying a boost in productivity.
Try Voila today. Download Free Trial.
Nov 21, '13 4:00 PM
Benedict Evans explains well the problem with measuring Android tablets. There are no reliable data collected because many of the devices are invisible through the regular, measurable channels:
There are no firms which report their shipments
They are not sold through retail chains which normally are sampled in the US and Europe (NPD and GfK respectively.)
They don't show up in browsing or ad transaction data
Google Play statistics are missing most of the activations since they are not sold as bona fide Google-sanctioned Android.
The only measured statistic happens to be component shipments. Items such as screens, CPUs or perhaps memory might be visible to market analysts. It's therefore tempting to add up tires manufactured to determine what's getting sold in auto dealerships.
But it's also hugely problematic.
Nov 19, '13 8:14 PM
In the post Seeing What's Next, I showed how the rate of change of adoption of technology varies with time and asked what might be experienced by present and future generations.
It turns out that knowing how what innovations become universal and the speed at which these technologies are replaced can give us an idea of what individuals might experience in their lifetimes.
Here's how to think about it: