Oct 6, '15 4:04 PM
On what it means to be great, Apple's 13 Million iPhone weekend and the iPad Pro and a lot of listener questions on the 160th episode of The Critical Path.
Source: The Critical Path #160
Sep 29, '15 1:33 PM
What makes a product great? I struggle with this question because being great is not just being better than good. Greatness is to goodness as wisdom is to smarts. Just like getting smarter and smarter may never make you wise, getting better and better does not mean ever becoming great.
Greatness is transcendental. It's hard to pin down. It inspires debate. It divides as much as it unites. It creates emotions as much as thoughts. It builds legends. It engages and persists. It lives in memory and penetrates culture. It implants itself in our consciousness persistently, to linger and dwell in our minds while we are bombarded with stimuli.
We use words such as "iconic" or "epic" to capture this permanent "mental tattoo" that we get from greatness. As important as this notion is, we struggle to define it. We don't even have a proper word for it. Perhaps it is what art tries to be, or what drives us to achieve beyond surviving. As vague a notion as it may be, it is one of the most important notions I can think of. Greatness is the cause, perhaps, of our ascent.
In the absence of any measurement of greatness, how do we spot it?
It may just be down to "knowing when we see it". But not everybody does.[1]
Notes:
Language is another indicator. When people attach brands to entire categories we get an indication of ubiquity and permanence. As much as the brand owner fears it, the genericization of a trademark is very probably an indication of greatness in consumer products. Aspirin, iPod, xerox, jell-o and app are examples where brands became words. [↩]
Sep 25, '15 11:07 AM
Here is a smart calculator you will enjoy. Unlike a dumb calculator, it lets you see math as math. Typing is completely "what you think is what you type". Everything is easier. Nothing gets in your way.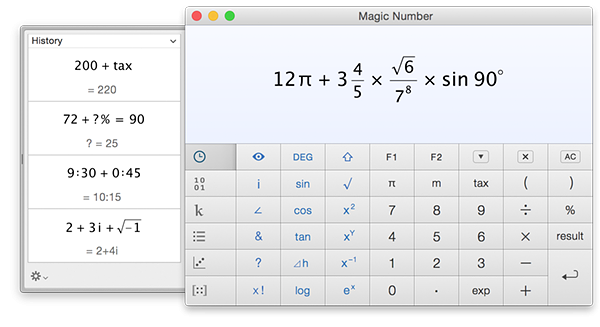 Magic Number is ideal for 'back of the envelope' calculations. Or cases when a spreadsheet feels like a truck and a traditional calculator feels like a horse.
Want to know the percentage increase going from 72 to 90?
Just type "72 + ?% = 90" and let Magic Number do the algebra.
Want to make sense of a list of prices?
Then the List feature is for you. You can see the statistics, compare prices,
and calculate their tax effortlessly.
I can go on. Magic Number is deep. But its virtue lies in its thoughtfulness.
To get a taste of Magic Number, check out this page.
Sep 25, '15 11:03 AM
What if Apple did make a car? How significant could their products be? What would it take to influence the industry's architecture?
The global market is forecast to reach 88.6 million vehicles in 2015 and there are many ways to segment it. One could look at geography or at product configurations or the emergence of new powertrain technologies.
One could also look at the participants.
In 2014 Toyota was the top selling automaker with a total sales volume of 10.23 million vehicles. The following graph shows the leading 15 producers and the percent of total production.

Sep 22, '15 10:42 AM
Subscribe to the weekly podcast about Internet History hosted by @brianmcc. Listen to interviews and oral histories with founders, engineers and other Internet pioneers with special episodes recounting the founding stories of companies you know and love. It's like a mix of Marc Maron's WTF and Dan Carlin's Hardcore History… but all about tech.
Past episodes have featured:
The founding stories of Netscape, Amazon, eBay, Pathfinder, Hotwired, Suck and more.
Oral histories from the majority of the Mosaic/Netscape engineering team.
An interview with the father of the MP3, Karlheinz Brandenberg.
Founders of CBSSportsline, Match.com, iVillage, RealNetworks and more
The forgotten technical co-founder of Amazon.
The woman who carpet-bombed the world with AOL CD's.
The founders or CEOs most of the major search engines of the 90s.
And there's more every week.
Subscribe now in Sticher or iTunes, or on your podcast app of choice.
Jul 30, '15 8:42 PM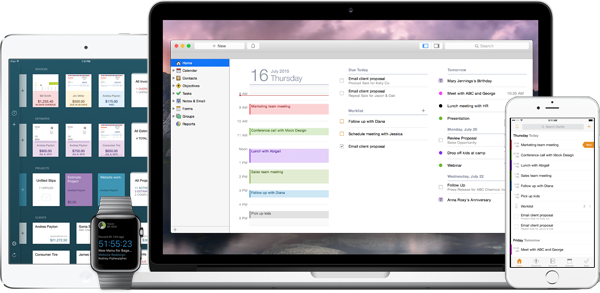 Marketcircle helps small businesses grow with amazing business apps for the Mac, iPad, iPhone, and Apple Watch. Marketcircle is a Mac-based software company in Toronto that develops award-winning apps to help you work happier.
Daylite is a business productivity app that gives you the benefits of a CRM, project management app, calendar app, and to-do app – all in one. Daylite helps you stay organized, share information and build effective processes so you or your team can increase efficiency.
Billings Pro is a time-tracking and invoicing app that helps freelancers and small businesses create beautiful and professional invoices in as little as 60 seconds. With less time managing invoices, you'll have more time to focus on clients and do the work you love.
We've been helping Mac-businesses for over a decade. Read how small businesses have grown with help from Daylite and Billings Pro.
Jul 13, '15 8:12 PM
There is no reliable information on Apple Watch sales. None of the analysts which follow Apple or the phone, computer or watch markets have any insight into this. The only source of information is Apple itself and they have made it clear that they don't intend to provide watch sales data for competitive reasons. I did not and do not expect any information from Apple on watch sales. They have placed the product within the "Other" category specifically to make unit data hard to discern and have explained why they do so.
The only estimate we have heard of is from a company that has no track record in market research and relies entirely on sampling of email receipts. I urge extreme caution when dealing with this type of data. We don't know how representative these receipts are and how they are sourced or sampled. The methodology is not only unclear but it's one not practiced by any other analyst. You would think that receipt sampling would be a phenomenal source of information about a lot of other products and yet we hear nothing about how predictive it is for anything except this particular new product as claimed by a company which never made any such prior claims.
It's also a sampling of (presumably) US-only customers at a time when the product is undergoing a gradual roll-out through multiple countries and multiple channels. Consider that if sales were constrained internationally then buyers would be trying to arbitrage through the US market, meaning there would be many e.g. Chinese buyers/brokers booking sales through US online stores inflating that channel's initial volumes. Furthermore as physical retail stores begin to receive stock, online sales (which are what is sampled) should decline as buyers opt for the instant gratification (and the option to see the product in real life.) To see US-only online purchases drop after a period of pent-up demand and as store inventory becomes available is not interesting and says almost nothing about the product's performance.
The only way to be thoughtful about this new category is to understand the broad transitions underway in mobile computing. We are witnessing a pivot in human-computer interaction as significant as the initial iPhone launch.
[As a rule, be very careful with the premise of data salesmanship. All data is false, some is useful. Data you have to pay for is less useful than data that has been peer reviewed.]