Tim Cook is quoted as having said the inventory is not only evil but that it's fundamentally evil.
With just-in-time production inventory can be reduced, at least work-in-progress inventory. Unfortunately inventory cannot be completely eliminated. The fact remains that you sometimes need to stockpile product for launch and need to have some on hand depending which way it's sold. There is also substantial channel inventory (which is off Apple's books but still evil) that needs to be in the hands of distributors.
Tight inventory management has become a characteristic of Apple and that contributes to getting ranked number one in Supply Chain Management. So we can expect that Apple runs a tight ship. In fact we have evidence of this through the ability to track our purchases from when they ship out of a factory in China all the way to our homes.
This tracking in itself shows that when product is in high demand production is initiated on direct consumer orders not just in response to maintaining a level of inventory. So with that in mind, we can revisit the question of how many iPhones 5 the company has produced.
First, we need to step back and recall the method for analyzing production. I built a model which attempts to show what a typical production run for an iPhone model would look like. I first published the process in early 2011.  It used the historic data from iPhone 1, 3G and 3GS to try to predict iPhone 4 production. I've updated the model to show what that would look like today.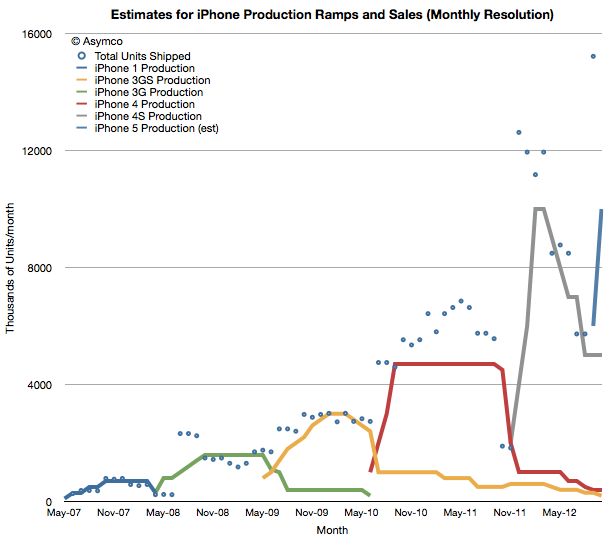 The assumptions driving the model are: