The smartphone market continues to grow. 2013 saw total shipment of around one billion units (up from 683 million in 2012). In contrast, non-smartphone shipments continue to decline, with shipments around 800 million (down from 987 million in 2012).
This pattern is shown below: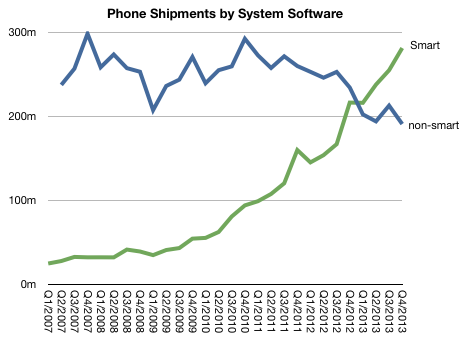 Note that prior to 2012 the non-smart market seemed to be holding steady in spite of the growth in smartphones. The notion that smartphones would become universal was widely dismissed. I certainly heard many objections to my 2010 hypothesis that not only would smartphones become ubiquitous but that it would become increasingly difficult to find anything else to buy. (This in spite of the clearly evident demand for "low-end" non-smart devices.)[1]
I also suggested that the notion of distinguishing phones with the"smart" tag would become irrelevant and that we would just call these devices "phones".
Notes:
The analogy I used was that of the black-and-white TV market as color TV became increasingly popular. There probably was a market for monochrome screens for a long time after they were discontinued but that is beside the point: the old technology becomes increasingly scarce because of economies of scale [↩]