Philip Elmer-DeWitt cited Piper Jaffray's latest Teen Survey on Device Ownership where ~7,500 teens in the US are asked about their device ownership. This type of data is similar to the method comScore uses to measure penetration smartphones in the US making the two data sets comparable.
The combined data is shown the following graphs.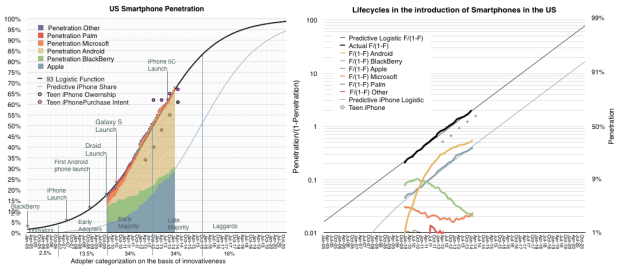 One graph is the penetration data and the other is the ratio of penetration to unpenetrated on a log scale. The PJC Teen Survey data is shown as dots on both graphs. In the spring of 2012 the difference between teen iPhone ownership and overall population iPhone ownership was 20 percentage points. In the fall 2012 it was 22 points. In spring 2013 it was 25 points. The spread increased to 30 points in the fall of 2013.