Following yesterday's IBM data, Monetate released a new study showing similar data related to retail browsing but covering a period of dates from Q3 2011 to Q3 2012.
This data also shows an acceleration of mobile shopping, from 7.7% of online in Q3 2011 to 18.8% in Q3 2012.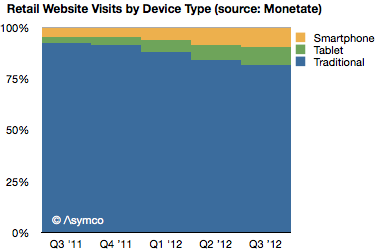 It also shows tablets growing to take about half of mobile traffic in a very short time frame.
The data also shows the iPad taking the vast bulk of traffic among tablets (88.9% vs. 88.3% from IBM).