As corporate romances go, IBM and Apple's must rank among the most unexpected. As I wrote on the date they changed their Facebook status, the two companies were antagonists for the better part of twenty years and their rapprochement was met with a shrug mostly because yet more decades passed since.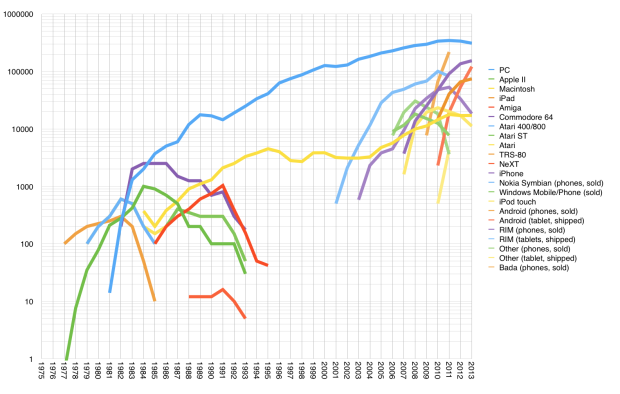 Nostalgia aside, this new union is profoundly important. It indicates and evidences change on a vast scale. The companies' antagonism was due to being once aimed at the same business: computing. Since the early 1980s, "computing" came to be modularized into hundreds, perhaps thousands of business models. It is no longer as simple as selling beige boxes. IBM was forced out of building computers and into services and consulting while Apple moved to make devices and the software and services which make its hardware valuable.
The convergence of interests which was consummated into a deal this year stems from the migration of computing around what has come to be called "mobile". Apple intends to accelerate the adoption of its mobile platforms among the remaining non-adopters: enterprises–a group which, by now, qualifies as laggards.[1] Simultaneously IBM intends to connect data warehouses at those same enterprises to their employed users.
Notes:
There was a time–when Apple was young–when enterprises were the innovators, early adopters. That role ended approximately in the year 2000 [↩]