During the first quarter of fiscal year 2014, we changed our organizational structure as part of our transformation to a devices and services company. As a result of these changes, information that our chief operating decision maker regularly reviews for purposes of allocating resources and assessing performance changed. Therefore, beginning in fiscal year 2014, we are reporting our financial performance based on our new segments; Devices and Consumer ("D&C") Licensing, D&C Hardware, D&C Other, Commercial Licensing, and Commercial Other.
The previous reporting segments were:
Windows & Windows Live
Server and Tools
Online Services
Microsoft Business
Entertainment and Devices
Unallocated and other
The new are:
D&C Licensing: Windows OEM licensing, Consumer Windows, Consumer Office, Windows Phone (including related patent licensing)
D&C Hardware:  Xbox 360, second-party and third-party video games, and Xbox LIVE subscriptions; Surface; PC accessories
D&C Other: Resale, including Windows Store, Xbox LIVE transactions, Windows Phone Marketplace; search advertising; display advertising; Subscriptions including Office 365 Home Premium; Studios including first-party video games; retail stores.
Commercial Licensing: Windows Server, Microsoft SQL Server, Visual Studio, System Center; Windows Embedded; volume licensing of Windows; Microsoft Office for business (Office, Exchange, SharePoint, and Lync); Client Access Licenses;  Dynamics, Skype.
Commercial Other: Enterprise Services, including Premier product support services and Microsoft Consulting Services; Cloud Services, comprising O365, other Microsoft Office online offerings, Dynamics CRM Online, and Windows Azure.
From Microsoft's FY14 Q1 10Q via Microsoft Investor Relations – Press Releases
The mapping between the old and new is not straight forward. There is overlap between D&C Licensing and the old Windows and perhaps between Entertainment and Devices and D&C Hardware but there are many gaps. There is also some overlap between the old "Business"/"Server" segments and the new "Commercial" but, again, they cannot be matched.
I show the difference between the two structures in the way revenues are allocated below, using color to try to show similarities.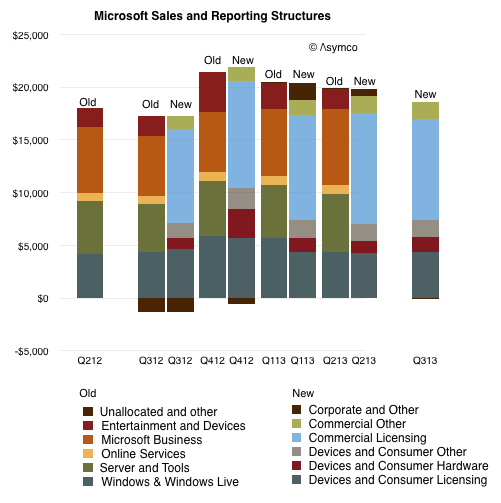 Given the re-stated quarters it's possible to compare one year's historic performance at a segment level. For example,