Jun 23, '14 6:31 PM
My talk on the future of things from Censhare's FutureDay 2014 in Munich.
Apr 28, '14 3:22 PM
"Innovation" is one of those words that, through casual overuse, has come to signify a wide array of distinct concepts – in some sense, the word is literally losing definition, like an out-of-focus photograph that manages to become blurrier every time you look at it.

These days, anytime anyone does something vaguely new, or a new feature gets added to some gadget or other, the innovation word gets flung about. Indeed, the word is used with the same reckless abandon as those other favourites of jargon-loving MBA types, "solutions" and "disruption", rendering it increasingly meaningless.
More from Davin O'Dwyer: Innovation Talk: Overuse of word innovation has blurred its true meaning – Business News | Latest News Stories | The Irish Times – Mon, Apr 28, 2014.
Mar 5, '14 4:55 PM
When trying to assess the success of an ecosystem, the primary measure is the size of the user base or the "audience" for the product. Companies like FaceBook and WhatsApp and Twitter are measured first and foremost on this metric. Companies like Google, Amazon, Apple and Microsoft are less so. When revenues are firmly attached to products the focus shifts to "follow-the-money" rather than "follow-the-users" metrics.
That's as it should be, but for the sake of understanding the competition between ecosystems, they should be compared on some similar basis. If the basis of competition in this day and age is ecosystems[1] how does one evaluate Facebook's vs. Microsoft's? Or, more poignantly, how does one compare WhatsApp's valuation with that of iMessage?
It's common to value a company which aggregates audiences at a multiple of that audience size. The implication being that each member of the audience returns a certain cash flow to the aggregator and the discounting of those flows is the net present value. Which is why, for example, a newspaper is valued in terms of its subscribers. As is a TV network and as might be a social network. Using this metric, a WhatsApp (i.e. free messaging) user is worth $40 and the average social media user may be worth around $100.[2]
The implication is that users/subscribers/audience members are loyal and will stay with the programming for some time. There is also a second implication that businesses which are not measured by audience size don't have this loyal and recurring revenue base. The absence of an "audience" implies transience and impermanence and results in deep discounting of long-term viability.
Notes:
As Microsoft, Apple and Google seem to agree it is. [↩]
The degree to which a user is actually worth the sum of all the subscriptions she may have made is a good topic for discussion. [↩]
Mar 3, '14 9:03 PM
I don't usually find books about Apple to be quotable. There are certainly some interesting anecdotes and observations but few appeal to the analytical mind. The popular books on Apple have tended to cover what close watchers have already known and are thus compilations with few revelations.
This is not the case with Leander Kahney's book on Ive. It certainly is the best compilation of detail on product development at Apple during the Ive years (and some time before.) Moreover, it's also filled with choice insights into the process of development.
This process-orientation is what makes the book stand out for me personally. There are character observations and personality intrigues but they are not the main focus or ambition for the author. Rather, as befits the book's subject, there is an exposition of detail about how things are done. It's not a complete exposition–nor can there be one–but it goes much further than any other Apple book I've read.
For this reason I found myself tweeting quite a few quotes from the book. Here are some examples:
"In a company that was born to innovate, the risk is in not innovating. The real risk is to think it is safe to play it safe" – Jony Ive

"Scott Forstall wasn't allowed to visit. His badge wouldn't even open the door."

"Design is the fundamental soul of a man-made creation" – Steve Jobs

"I have seen buildings where, as far as the eye can see, you see machines carving, mostly aluminum."

"I do not want any of my guys thinking about cost. They should not care…that is not their job"

"The thing is, you could transplant me and this design group to another place and we wouldn't work at all"

"they wanted to give PowerPoint presentations, but Jobs quickly banned them. He saw PowerPoints as rambling and nonsensical"
The book mostly follows Ive's career with chapters covering most significant episodes chronologically, however there are deep dives into the "how" rather than just the "what" happened. There is a hint of causality rather than correlation between events and outcomes.
For example, there is a mesmerizing description of the actual Apple design studio even though it has never been depicted in any public photo or video or diagram. There is a great attention paid to manufacturing and materials, as indeed there should be if talking about Apple design (but not necessarily if talking solely about design in general.)
There is an amazing revelation of the existence of the "ANPP" or the Apple New Product Process. This process directs the "extreme detail [for] every stage of product development". The presence of such a "giant checklist" implies a degree of process and rigor which is in contrast to the "heroic" effort that prevails in popular folklore about how Apple develops its products.
If there was one disappointment it was that I felt as if half was missing. The half which would tie the dots together and see where they might lead. But that's perhaps too much to ask for what is essentially a biography of an individual rather than a company.
Nevertheless, for anyone interested in the process of innovation that remains Apple's principal asset, Jony Ive, The Genius Behind Apple's Greatest Products by Leander Kahney is available at the iBookstore.
Feb 9, '14 11:43 PM
Horace Dediu is an analyst with a focus on the mobile phone industry and especially Apple. Blogging at asymco.com, he often posts surprising facts that confront the conventional "wisdom" of other analysts, who are often predicting doom-and-gloom for Apple.
We asked Horace to share his thoughts on technology, change, and how to anticipate the next big thing.
Jan 20, '14 10:50 PM
A short anecdote about the history of Silicon Valley told at Asymconf California last year using techniques taught at Airshow workshop.
Next workshop is in San Jose on Jan 30, 2014.
Dec 19, '13 4:21 PM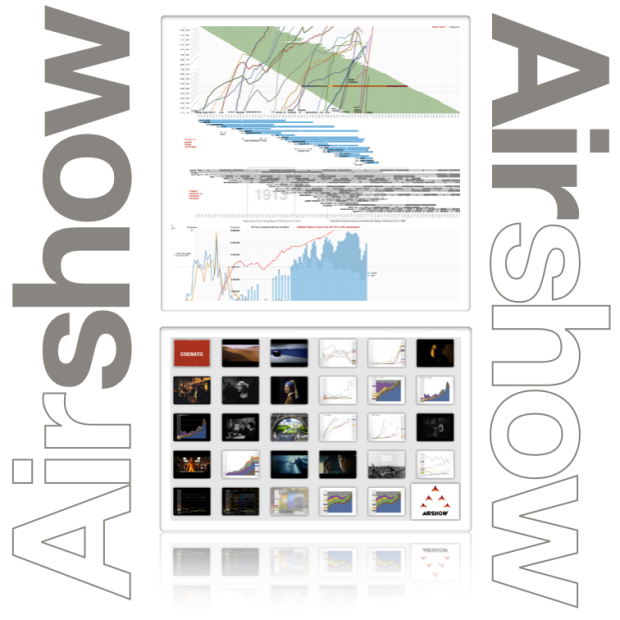 In a world where everyone needs to present, few know the power that lies under their fingertips.
Whether one-on-one or in front of millions on TV, presentations are the primary means of persuasion in business.
Have you ever cringed at text-only slides or puzzled over graphs that made no sense? Steve Jobs saw "PowerPoints" as "rambling and nonsensical" and had them banned internally. But he used visuals for all his keynotes. What made them tolerable, even persuasive?
The problem is that most people receive no training in how to compose the most crucial images they project to an audience and the tools available do not take advantage of motion, touch, processing power, mobility and high resolutions.
Airshow teaches principles of visual persuasion using techniques of cinematography and visual storytelling.
Airshow shows how tablets create a new stage for your performance.
Airshow applies Aristotelian rhetoric, Cinematographic theory and Cinematic storytelling as well as Tufte design principles into a new medium.
You'll learn how to:
Persuade with logic, empathy and credibility.
Present rich data as compelling and emotionally engaging
Get hands-on experience with modern tools of persuasion including tablets and interactive, touch-based interfaces.
You have the data. You have the audience. All you need is a story and a screenplay. How do you build them?
There are techniques which are proven to work. They've been used by writers, performers and playwrights for centuries. Professional presentation coaches will teach you far less and at greater expense.
Airshow is better and less expensive, especially in terms of time.
Airshow is an intimate experience. Audience size is limited.
All the tools and techniques needed in one day of intense, inspirational and engaging training.
Airshow could be coming to a town near you but to make it happen you need to act now.
Here's how it works: For every month in 2014 an Airshow event will be hosted. The location for that month will be locked-in when the first 20 registrations for that city will be recorded. Any registrations that take place before the location is locked-in will be half-price.
In other words, early registration means you get half off![1]
Now is the time to learn presentation skills for the post-PC era. Just like there is no writing which does a movie justice, I can't write here how it's done, you have to see it live.
HERE'S WHAT PEOPLE SAY ABOUT AIRSHOW
"Airshow was amazing. Business stories with cinematic impact made easy with perspective"
— Paul Brody, Global Business Leader, IBM

"Airshow has fundamentally changed how I give client and industry presentations. It is an important tool in my toolbox which allows me to showcase my data and my story in ways that help audiences gain deeper insight and perspective."
— Ben Bajarin, TIME, TabTimes, Techpinions

"Nobody brings numbers to life like Horace Dediu does."
—Philip Elmer-DeWitt, Fortune/CNN

"The unhurried nature of Airshow is just terrific and in contrast to many other events. Anyone who goes will gain their own purposes."
—Steve Crandall

"Airshow is a treat […] showing how to make the audience wonder."
—Bertram Gugel

"Airshow is surpassing my expectations. Very interesting deep content."
—Ryan Singer, 37signals.
Notes:
If your registration is not part of a quorum (fewer than 20 total) then it's automatically re-issued for the following month. You may also request a refund. [↩]
Oct 18, '13 4:06 PM
Cinematic is to film as Literary is to prose. It's not a measure of quality or of beauty. It's mainly the application of technique to impart an additional layer of meaning to the writing, performance and direction of the medium. Cinematic technique lifts the viewer to another, more profound point beyond the literal.
Whether it's film, literature, verse, stagecraft or other visual arts, techniques vary but they have the same purpose. They make the audience feel more than what is said.
The quality of a good work of art is that it tells a truth without saying it.
And this, I believe, is what the analyst should also strive for. It is at least what I try to do and, having practiced for a while, I think I can convey some of the techniques I learned.
We don't have a better word for describing these techniques than "cinematic". They allow the presenter of complex and rich data to convey meaning with an economy of rhetoric. They draw the audience into completing the picture thus making it their own. They persuade without pleading. They teach without lecturing. They create, in a way, a poetic language for data that combines techniques from several arts, especially cinema.
The means for teaching this is a workshop called Airshow.
Together with IBM, we are proud to bring Airshow to Boston, New York and Helsinki this year.
Register here.
Oct 14, '13 9:20 PM
Airshow New York was our best Airshow ever. We sold out to an audience who engaged and challenged us to our best performance. We are learning more each time and after three shows we have honed the show to a fine performance.
Due to the demand met in New York we decided to return there in December 5th but to also present in my home town of Boston on December 3rd. We are also presenting in my second home town of Helsinki in November.
You can sign up for any of these events at Airshow.asymco.com.
The purpose of Airshow is:
To explain how to present rich data in a compelling and emotionally engaging way.
To explain the principles of visual persuasion.
To offer hands-on training with the tools of persuasion: iPad and  Perspective.
The method we devised borrows heavily from the techniques of Cinematography and screenwriting to impart meaning to the audience beyond the literal words spoken or images shown on screen.
This includes:
Framing
Light and Color
Depth
Motion
The Reveal
Texture
Establishment
Characterization
Point of View
These techniques are demonstrated with "feature presentations" and then deconstructed in interactive lectures. Throughout we also weave Aristotelian rhetorical tips and present from the Asymco repertoire of stories.
The day ends with a hands-on exercise. iPads are required.
At the end of the seminar you should be able to:
Understand how data can be used to persuade through an appeal to logic as well as through empathy.
Understand the basics of "data cinematicism" including the techniques analogous to cinematography and direction.
Understand story development techniques including how to facilitate the audience's entry into the story.
Build a cinematic presentation.
We are looking forward to seeing you at the next Airshow.