One of the most startling announcements during the WWDC 2013 was iOS in the car. The mockup that was shown seems to indicate the use of the car's in-dash display as an "external monitor" for an iOS device while control would come from inputs using Siri.
The technical details were not released so it's hard to know the protocol used to accommodate this interface. However it seems that it will be generic enough that a number of launch brands signed up for the launch. The list includes Honda, Mercedes-Benz, Nissan, Ferrari, Chevy, Infiniti, Kia, Hyundai, Volvo, Acura, Opel and Jaguar.
Is this a significant opportunity?
Before we get excited, it's important to note that this will likely take a very long time. It won't even begin until 2014 and the number of new models may trickle into showrooms quite slowly. Consider that the time it took for automakers to universally support external audio input (mostly the trivial line-in) was about a decade.
To also curb our enthusiasm we need to realize that the car industry does not produce many units. In 2012 there were over 60 million cars produced (with the following regional mix:)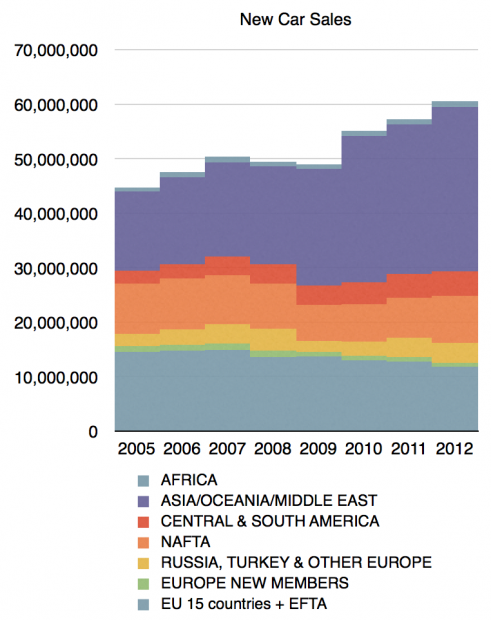 In contrast, 60 million is about the number of phones sold every two weeks. In 2013 there will be more iPads sold than cars.
In particular the companies mentioned had the following production figures in 2011: