Nov 3, '14 4:12 PM
We talk about Samsung, Apple Pay (vs. CurrentC) and Xiaomi.
Oct 31, '14 2:35 PM
When the Apple Watch was launched, all eyes turned to the Swiss watch industry. Analysts measured it and asked if it's big enough to be interesting. Industry observers questioned the competitiveness of an entrant vis-à-vis the ancien régime. Marketers weighed in with segmentation hypotheses and how Apple's queer new device might best fit.
These are all mistakes in analysis.
The market for Apple Watch is not the Swiss (or Chinese) watch market. The market for Apple Watch is the number of wrists in the world. To the extent that those wrists will be covered with Apple hardware will determine whether it is successful or not.
Measuring the existing market is a mistake because the existing products are hired for different jobs. Those measurements will yield only an answer to how big that job is.
Assessing competitiveness vs. incumbents is a mistake because incumbents have perfected solving the problems of wrist-worn timekeeping devices over a century. Apple's watch is not a wrist-worn timekeeping device any more than the iPhone is a phone or the iPad is a pad.
Segmenting the market by whatever means are convenient today is irrelevant because the segments are currently positioned on the current jobs to be done. It's no more relevant than classifying the iPhone along the segments defined for phones in 2007.[1]
Some have tried to wedge the Apple Watch among the "fitness tracker" market. This is no more plausible given that fitness tracking is no more interesting than timekeeping is to Watch.
The best way to measure the opportunity is to quantify the "wrist-space-time" continuum and deciding what is and what isn't addressable. The wrist is an interesting place to put a computer and Apple makes computers. The rest is left as an exercise to the reader.
Notes:
e.g. keyboard phones, flip phones, and feature phones [↩]
Oct 31, '14 9:34 AM
Ben Bajarin:
A few weeks back Horace Dediu of Asymco and I were having dinner and we got to discussing some of this updated thoughts on disruption theory. One bit in particular was how the luxury tech market was causing him to evolve some thinking on the theory as it relates to consumer markets. I thought it would be great to have him on and we could chat more about disruption and the role it plays in the technology industry in the 21st century.
via Podcast: Discussing Disruption Theory | Tech.pinions – Perspective, Insight, Analysis.
Oct 30, '14 4:59 PM
Samsung's smartphone ascent was breathtaking. From having essentially zero market share in the category in late 2010 to becoming the largest vendor took less than two years. In doing so it grew to become the largest phone vendor, smart or not–a goal which eluded them during the previous decade of effort. Samsung went on to capture not only the lion's share of unit volumes, they also took almost all the profits in the Android mobile phone market.
And in a market filled with competitors. Literally hundreds of vendors and thousands of products were available at every conceivable price point. Samsung did away with HTC, LG, and Motorola. HTC, the first Android vendor (and first to market with Windows Mobile), Motorola, Google's launch partner in the US and "Droid" brand partner (and future owner).  Google's own Nexus products. Samsung Galaxy ruled them all.
Galaxy swamped the Chinese market and the Indian market, the largest in the world. They were so powerful that they were singled out both by Microsoft and Apple for IP royalties.
All within two years or the average life-span of one smartphone.
But something went wrong in 2014. Growth in shipments suddenly stopped. This was not a problem with the overall market, which kept growing. The slowdown did not affect other vendors, especially the up-and-coming Lenovo and Xiaomi and the second and third tier vendors whose names are  known only in the local markets they serve.
The result of this slowdown is shown in the following graphs:
Oct 28, '14 3:10 PM
12 months ago I asked How many iOS devices will be produced in the next 12 months?
Based on the analysis of Capital Expenditures (as forecast by Apple in their annual 10K report) I concluded "iOS unit shipments should be between 250 million and 285 million."
The answer turned out to be 247 million.[1] Including Apple TV the total would probably be around 251 million.
Since last year, I adjusted my model by observing corresponding iOS unit shipments for the calendar year corresponding to each fiscal year. Since the calendar year is offset by one quarter (FQ1 = CQ4) looking at calendar year means looking forward one quarter post-spending. I believe this is more accurate as spending generally happens in advance of production.
The resulting pattern is shown below: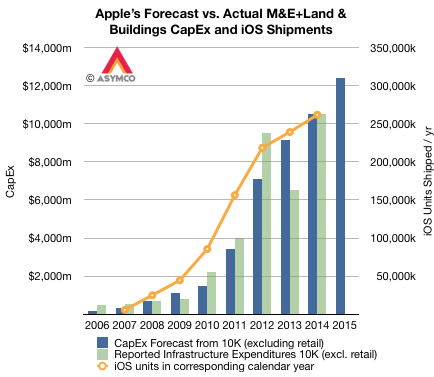 Notes:
Including an iPod touch estimate of 9.5 million [↩]
Oct 23, '14 10:28 AM
In Q3 2014 Apple's revenues were 5.3% higher than the upper end of their guidance. This is the highest error in guidance since the new range-bound  reporting regime started two years ago.
The following graph shows the guidances given since 2005 and the actual revenues. The error (as a percent of upper guidance) is given in the second graph.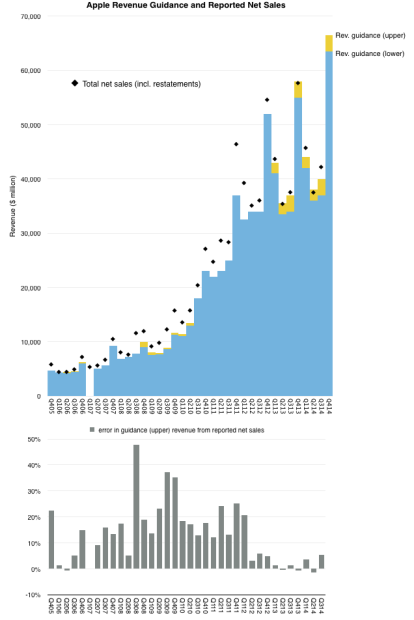 Oct 22, '14 11:32 AM
The problem with getting better is that if you're more than good enough you're actually getting worse. Improving beyond the point where your improvements can be absorbed is not only wasteful but it's also dangerous. It opens the door to competitors who compete asymmetrically.
This is the perverse and pervasive threat hanging over all system vendors. The temptation to "get better" is not coming from incentives and human nature. It's  always there as Moore's Law offers an exponential increase in power. People don't naturally have exponentially increasing needs. For them to absorb this new power, it has to be couched in new uses.
What has permitted the absorption of improvements in semiconductor performance (and production) have been other aspects of the system: the software, communications and services innovations have been positioned on more demanding jobs to be done which, once hired for those jobs, saturate the available processing and storage.
This is most easily evident in how digital photography has advanced. The constraints on sensors meant that quality was initially poor and as cameras were unconnected, they were relatively under-utilized. But once software and communications were added (by inclusion in smartphones) digital photo creation exploded. This, in turn, led to more storage needs both on the device and the servers. In a virtuous cycle, more processing power meant video was possible, then high definition video, then slow motion high definition video. The previous storage limits on mobile devices were quickly overwhelmed. Megabytes of storage became gigabytes and then hundreds of gigabytes. Video editing meant processing power was suddenly in demand again. Cores multiplied.
Third party media (music and videos) storage and playback used to be the main job that storage was hired to do[1] but as cameras got better, user-generated content suddenly bellied up to the bar.
That is now the story for phones, which are gobbling up all the storage and bandwidth we can throw at them. But what about the larger form factors? Are iPads (and laptops) growing in their demands? Paradoxically, it would seem that the smaller devices are hungrier than their larger cousins.
The answer lies with the jobs to be done. If highly portable devices are more usable, they will be used more. Large devices are left behind, literally, because their jobs are not as pervasive in place and time. For a large screen like the iPad to increase its attractiveness, it has to be the stage for a set of jobs that only it can perform.
The new iPad has the horsepower. It has more portability (thinner, lighter) and it has the touch ID convenience. It even has a better camera. But for it to succeed it needs to be hired for a set of jobs as expansive in usage as the user-generated photo/video jobs that the iPhone has been called to do.
I hire my iPad for one such job: to persuade audiences small and large. I use it across a dining table and across an auditorium to appeal with a visual language. I use Perspective to create stories that have to be seen to be believed and once seen, create belief.
The tool is demanding however. As the stories are fed by data and the visualizations are rendered algorithmically and not as stored images it is hungry for processing power. I also need it to record performances which taxes storage. I need to transmit those performances both in real-time and as recordings, tasking the WiFi and cellular bandwidth. I need as much screen as I can get to be able to interact with the elements on screen, of which there may be hundreds. I need to export video versions of performances and thus I need a video studio with all its extravagance. I need it to run for all-day workshops connected to a projector, sometimes through AirPlay, under stage lights, which pushes the battery.
Consider my last padcast. It was recorded in one take lasting 18 minutes. I then exported the results to a video that was uploaded to Vimeo and viewed by thousands. However it took over one hour to render it and due to that constraint I did not have the luxury of editing it. I could not easily add, subtract or annotate the video production. This was done on an iPad Air and I was happy to get it done at all.
But if I had an iPad Air 2, not only would production time be shrunk[2] the things I could attempt to do with a presentation suddenly expand. It's not just about more efficiency but an expansion of scope. More power means more work I choose to do.
So is the new iPad better? As far as the jobs I hire it do do, the new iPad is better. It is in fact not good enough. Which is the best thing to be.
Notes:
Which was far more demanding than office-like documents [↩]
To about half the time [↩]
Oct 16, '14 12:58 PM
We will be conducting the 11th Airshow event in Seattle on Saturday, 8 November 2014.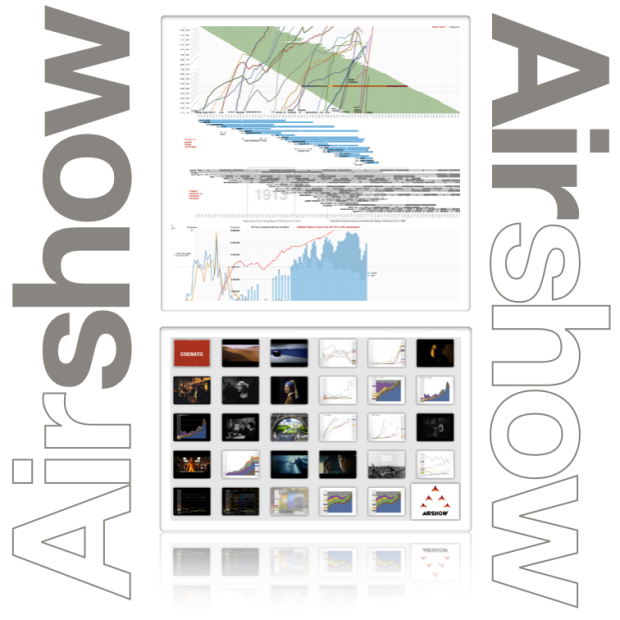 The purpose of Airshow is to:
Understand how data can be used to persuade through an appeal to logic as well as through empathy.
Understand the basics of "data cinematicism" including the techniques analogous to cinematography and direction.
Understand story development techniques including how to facilitate the audience's entry into the story.
Learn how to build a cinematic presentation.
The method we devised borrows heavily from the techniques of cinematography and screenwriting to impart meaning to the audience beyond the literal words spoken or images shown on screen. These techniques are demonstrated with "feature presentations" and then deconstructed in interactive lectures. Throughout we also weave Aristotelian rhetorical tips and present from the Asymco repertoire of stories.
Given the cinematic nature of the event, we thought it would be fitting to use a screening room, so we have reserved the the Auditorium at Fry Art Museum. See Airshow Seattle event page for more information. Discounted registrations for readers of this site are available. Students and teachers may register with an academic discounts.