Sep 8, '14 5:58 PM
Anders Brownworth and Horace Preview of Apples September 2014 special event. We focus on how Apparel gets disrupted. We also wrap the Creativity, Inc. book review.
Sep 5, '14 5:37 PM
Dash is realtime dashboards for your website, your business, and your life. Your first dashboard is free forever.
Dash just added Gmail widgets yesterday, and they're already one of the more popular widgets on the site. By default they show your inbox, but you can also set them up with Gmail search phrases like "label:apple". You can even combine search terms to produce results like "all email received in the last 12 hours containing the phrase 'scoop' and an attachment."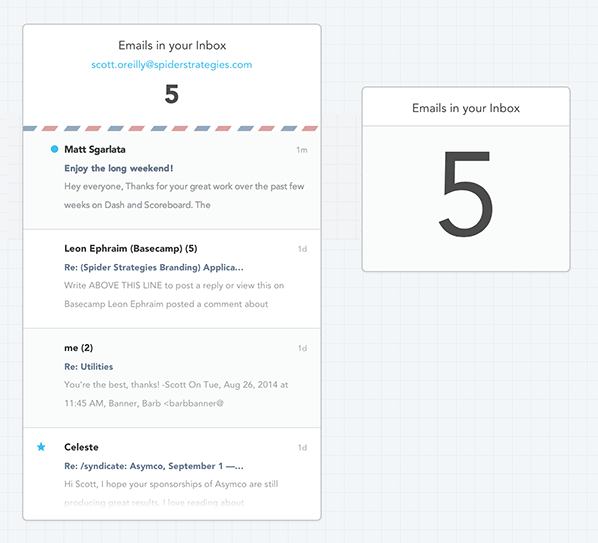 Sponsored via Syndicate Ads
Sep 4, '14 10:00 PM
The bank robber Willie Sutton did not say, when asked why he robbed banks, "because that's where the money is." He did agree with the idea however saying "Go where the money is…and go there often".
Regardless of it being apocryphal, this idea came to be called Sutton's Law and is often taught to medical students. It's similar to the notion of Occam's Razor: when an obvious or simple answer competes with an obscure or complicated answer, pick the obvious one first.
These are sound analytical rules of thumb. When thinking about what products and services could arise in the immediate future, those most obvious and with fewest assumptions should be put forward first. The what part is relatively easy. The tough question is more about when will they emerge?
We now know that Apple will announce new products on September 9th[1]. This gives us an idea of when something will happen, answering the tougher question. It leaves the simpler question of what will emerge.
I put forward my predictions as follows:
Regarding iPhone, a tweet on product mix and pricing.
Regarding an "iWatch", an answer to a question from Eric Jackson.
Regarding the potential for wearables, a post on the subject.
One more item has surfaced on the potential of payments processing which I want to address now.
Handling payments, to me, is a perfectly plausible activity for Apple mostly because the company has made quite a few comments on the value of their "customers with credit cards" and the effort that went into Touch ID (which seems to be extravagant relative to the value of rapid unlocking).
But one word of caution: if Apple does enable payments it's important to realize that being a (payment) bit pipe is not a particularly profitable business. It will undoubtedly bind value to the iOS devices which make it possible, but I don't think there will be a direct capture of profit from the transactions themselves.
Notes:
I'll be there and will report via Twitter and a special session of The Critical Path podcast [↩]
Aug 28, '14 12:32 PM
If software can be injected into an industry's product it will bend to the will of the software writers.
This theory expands on Marc Andreessen's observation that "software is eating the world". The evidence is that software, coupled with microprocessors, sensors, batteries and networking becomes applicable to an increasingly larger set of problems to be solved[1]. Software has "eaten" large portions of entertainment (e.g. Pixar, iTunes, video games), telecommunications (iPhone, Android, Messaging), various professions including journalism, management and law, and is entering transportation, energy and health care and poised over banking, finance and government.
As entry happens, asymmetries are enabled and disruption follows. This is the bending to the will of the writers–who tend not to be incumbents. The incumbents can't embrace the changes in business models enabled by software without destroying their core businesses and thus, invariably, they disappear.
The pattern is easily observed but the speed and timing of it is difficult to predict and hence investment success is not certain.[2] There are many entrants who try and few succeed and there are many incumbents who will survive longer than a prophet can stay hungry.
Nevertheless, this process of software-induced turnover in wealth–and, incidentally, vast, additional wealth creation–is inevitable.
But can we predict anything other than timing? For example, can we predict the next industry to succumb to this force?
Notes:
Or, put another way, is eligible to be hired to perform an increasingly large set of jobs [↩]
Which, ironically, means that the jobs of venture capitalists are still safe. At least until the theory develops to the point where it can predict with more accuracy winners and losers. [↩]
Aug 26, '14 9:38 AM
My thanks to Eric Jackson for his thought-out questions on Apple. As published in Forbes, here is his Interview With Horace Dediu: What To Expect When Apples Expecting.
A few excerpts:
Q: Do you expect to see a sapphire cover on the new iPhone(s)? Is that material significant?
I expect Sapphire will become a signature feature across many products. I don't know if they will have capacity to deploy on iPhone this year but on a watch it's essential. Here's a clue: if the screen has any curvature, especially around edges, it needs to be sapphire as glass can't take strain in that shape. The scope of the plant they are building with GT implies that they will have massive volume potential with at least one major iPhone model using the material. It's a significant material because it allows design freedom in new directions, especially curved (concave) touch surfaces that retain a jewel-like feel. This has Jony Ive all over it.
Q: Is it fair to conclude now based on the 5C and 5S that Apple will never launch a "cheap iPhone"?
Oscar Wilde said a cynic is someone who knows the price of everything and the value of nothing. When I see the word "cheap" I never know if it refers to price or value. And even when we talk about price, an iPhone is cheaper than buying all the things it replaces so it's always been a low end disruptor in my mind. (I saw a tweet with an image of a Radio Shack ad from the 1980s and every single item available on that page is now a part of the iPhone. It would have cost thousands to buy all those things back then–and dollars were worth a lot more.) Furthermore, I think Apple holds a black belt in pricing. They seem to define their position in the market by anchoring certain prices and "owning" them. Given all that I would say that Apple is not going to move their price points much. They will expand the portfolio and offer some iPhones at $300 but they will be older models. The average selling price (ASP) I expect to remain constant on a year-long average.
Q: In the past, Apple critics were quick to dismiss the new iPad and 5C iPhone as failures upon their introduction.  You never judge. You just report the facts and data.  That said, is there anything about past new Apple products launches that we should look at as a predictor of how a new iWatch might be received by customers?
When the iPad was imminent the great debate was over whether it would run iOS or OS X. Many imagined a touch-based Mac rather than the "big screen iPod touch". It was a tough call and one which Microsoft could not and still does not make. Therefore, the interesting question for me with respect to iWatch is: What OS it will run? I will be shocked to the core if it does not run iOS. It is my opinion that making iOS work on it is the entire reason Apple is sweating this segment. They are in it because they are trying to make a platform product with a novel user experience and all the power of an ecosystem run on a wrist. It's as big a problem as getting a phone-sized device to run a touch UI was in 2007. That is the crucial contribution that Apple is making to this next generation of computing. Now you might ask what users are asking for in this segment. The answer is nothing. Nobody is asking for this. As nobody asked for the iPhone (or the Mac or the iPad). It's a new computer form factor and how it will be used will be determined by the apps written for it. But it will work and be magical out of the box in version 1. This is in contrast to the single purpose or accessory model of wearables we see to date.
Q: As a student of disruption, where is Apple most vulnerable to being disrupted?
Apple is a new market disruptor but much of what is put forward as a threat to it is low-end disruption. I think Apple knows enough about how that happens that it can manage its way around it. The strategy they employ is one of attrition. If you wait long enough a low-end threat tends to wear itself out as it starves of profit and is constantly gnawed-at by alternatives. (You see, if the disruptor cannot manage a profit then they cannot climb up the trajectory to get on top of the incumbent. Being profitable is a key requirement for successful disruption in the long term.) The attrition strategy works as long as you have the fortitude to hold out and the deep pockets to keep improving your product as alternatives flame out. It is my belief that Jobs made sure that thinking is inculcated in the company. So if not low-end is the company vulnerable to new-market disruptors? This is more subtle and the threat here is what Google/FaceBook/Amazon and the other ecosystems are all about. It's creating new usage models and shifting where consumers place brand value. I think this is more what keeps Apple's management awake at night. They are not standing still however. iTunes and Software and Services (now with Beats on board) is the way they are staying on top of that threat.
Lots more here.
Aug 21, '14 6:09 PM
Part I is a review of the "automotive stack" and note how there is no singular event that seems to affect disruptive change. From changing jobs to be done, modular design and manufacturing processes, powertrain evolution, urbanization, environmental interests, regulation and taxation.
Part II is a review of a framework of analysis based on sources and uses of energy.  Inputs, efficiency/losses, network effects and inertia, what can change and what can't change.
For a shot of theory, Horace reflects on the dichotomy of efficiency vs. efficacy when it comes to predicting change in the sector.
Aug 19, '14 8:38 PM
Predictions of the iPhone Portfolio, big screen phones and what they are good for, and a tentative review of Ed Catmull's "Creativity, Inc"
Aug 18, '14 1:48 PM
Prior to implementing a dividend and share buyback plan, Apple had accumulated about $120 billion in cash and marketable securities. In the eight quarters since implementing the cash return plan, Apple has paid about $21.5 billion in dividends and spent another $53 billion of its shareholder's money buying its own shares and retiring them. That's $74.5 billion in cash that's been removed from its balance sheet.
To avoid some repatriation taxes it also borrowed about $29 billion.
Of course, in the meantime, it also generated cash from operations.
Before the plan's implementation, eyeing the cash allowed for easy tracking of the accumulation of retained earnings. After the plan it's become a bit more complicated. The following graph shows all the quantities involved: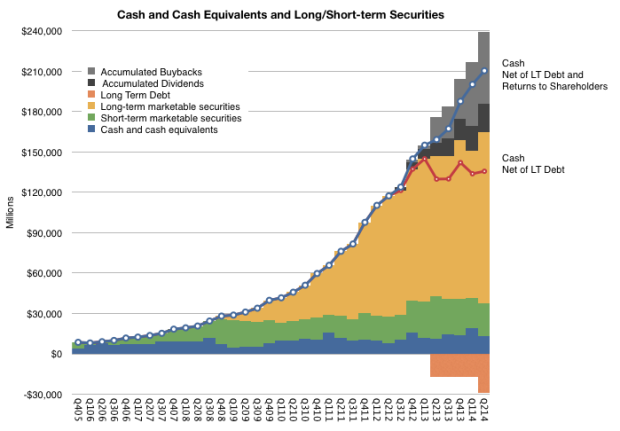 The graph lets us answer the question "What would have happened if Apple had not paid any dividends, bought back shares and taken on debt?"[1]
The answer is in the blue line. It would be about $210 billion today. There are about a dozen companies other than Apple worth more than that amount.
As the company is not growing as quickly as it used to, the slope of the blue line is constant (i.e. it's nearly linear.) Though that might be seen as evidence of failure, it's more useful to treat this vast quantity as a recognition of past successes. The company's beleaguered status needs to be carefully preserved.
Notes:
The grey and black area of the last column is the total "cash returned to shareholders" and sums up to the $74.5 billion mentioned earlier. The grey area is only theoretically valuable as it depends on the outstanding (i.e. not retired) shares retaining their value. In this case, the value of the shares grew, making this an actual gain for shareholders [↩]
Aug 14, '14 2:51 PM
Leap your toughest business problems in a single bound.
At Gaslight, we transform businesses with technology. Let's work together to build custom software that gives your business superpowers. The kind that allow you to boost profits, innovate faster, launch a new revenue stream or radically improve productivity.
We believe in the power of:
Small, mighty teams: We'll assign a strong dedicated team, often two developers and a designer, to work on your project.
Laser focused work: Our agile development process allows us to build software faster and focus on building the features that deliver the most value to your business.
True partnerships: We consider our clients part of the team and collaborate with them on a daily basis.
Read our case studies to see how we've given other businesses superpowers. Or reach out to kick off a project.
p.s. 5 signs your business needs custom software
Sponsored via Syndicate Ads