When the iPhone 5 launched Apple promised availability in 100 countries before the end of year. This was a very aggressive plan given the gradual release of previous products. Last year the iPhone 4S only arrived in China (along with 21 additional countries) on January 13th. This year it was almost a month earlier.
Apple also announced for the first time this year first weekend sales for China: 2 million. This is, as far as I know, the first weekend sales data for a single market outside of the US. The time span was three days and therefore the daily sales rate was 2/3 million per day.
The following chart compares the launch performance for the launches which Apple reported:
If we normalize by population, the launch performance shows about 1.5 iPhones sold per 1000 inhabitants.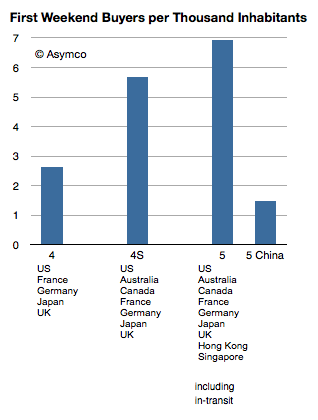 It's a lot less than what we saw with the iPhone in the US and the first tranche of launch countries. But it's not far from the 2.6 achieved by the iPhone 4. The pricing and 3G penetration in China are far less favorable making this even more impressive.
According to ISI's Brian Marshall, the iPhone achieved 1.5% penetration of the 3G subscriber base or 15 iPhones per 1000 3G subscribers. If we assumed the same basis (3G subs) that would make the iPhone 5 twice as popular on launch in China than in the US.