… says UBS analyst John Hodulik, as quoted by the Wall Street Journal.
No they haven't.
According to the latest comScore survey data, 98 million Americans above the age of 13 don't use a smartphone as their primary phone. That's 41% of US mobile phone users.
What's more, 2.5 million more people first started using smartphones in the three month period ending May vs. the three month period ending in April.
The switching rate to smartphones is shown below: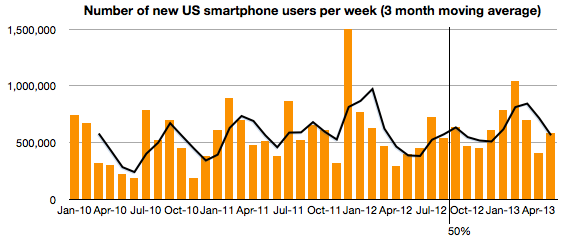 It shows the number of new-to-smartphone users who switched every week. It can be considered the "speed of adoption". The latest figure is 583k/week, above the 572k/week average maintained over the last 41 months.
[I also added a three period moving average which shows a seasonal change in adoption. I also added a vertical line showing the point when 50% penetration was reached (August 2012).]
The switching rate by platform is shown in the following graph: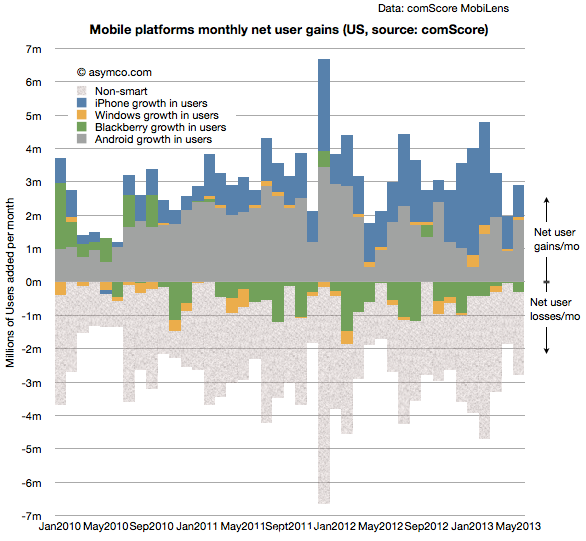 The data shows that churn between platforms (except for BlackBerry) is still negligible and that the majority of user losses can be attributed to non-smart devices.
To summarize, with penetration now at about 60% in the US, the rate of adoption of smartphones is not slowing in any perceptible way.
So not only is there no saturation, but there is no slowing of adoption of smartphones in the US, the most penetrated large market.
Globally, the penetration of smartphones is less than half of that in the US. About 4 billion people are about to switch.
Of course, they may not be willing to switch to what is currently offered to them in the market, but then again, the billion or so who adopted iOS and Android phones did not switch when the alternatives were BlackBerries, Palm, Symbian and Windows Mobile devices.