Sony is "not convinced there is a large enough market to justify bringing out a tablet,"
via Sony Considering Developing Tablet Computer to Compete With Apple's IPad – Bloomberg.
I wonder what current Sony management would have said when the Walkman would have been presented to them in 1978 by audio-division engineer Nobutoshi Kihara.
The Walkman TPS-L2 from 1979: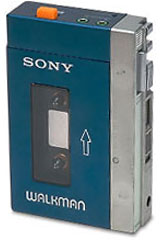 The Walkman introduced a change in music listening habits by allowing people to carry music with them.
There was a tiny market for such implements in 1978, promoted to professional journalists.  Sony even had a product called the Pressman and marketed it exclusively to reporters. These recorders lacked stereo sound and were very expensive. They also used (typically) microcassettes, which had no support from record companies.
With the limited choices presented to consumers, the most popular cassette tape players were either home stereos or car players.
I'm sure Sony's current management  would also have been unconvinced that there was a large enough market to justify bringing out a consumer-grade portable cassette player.