The latest comScore US mobile subscriber monthly data is in: comScore Reports January 2012 U.S. Mobile Subscriber Market Share – comScore, Inc.
January saw a return to trend line growth in US smartphone add rates. The 767k/week rate is within the band after November's below- and December's above-the-line outliers. The weekly add rates are shown (with projection of trend) below:
The pattern shows a likely 1 million new smartphone users per week being added consistently by the fourth quarter of this year.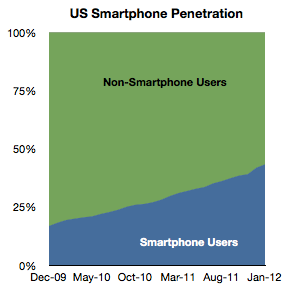 Overall, penetration of the sampled population (above age of 13, primary phone and excluding business purchases in the US) reached