Nokia reported Q1 results following very closely the warning issued last week.
There were few surprises. There is much more detail in terms of regional performance which might be a better indicator of how the smartphone strategy is playing out. I plotted the data in three charts.
Regional Sales Value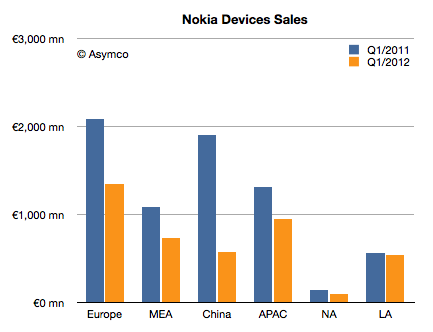 A year ago Europe and China were nearly equally valuable as regions to Nokia (€2.1 billion and €1.9 billion, respectively). Even though sales fell across all regions, China fell so much that it has become the fourth in value and nearly the same value as Latin America (€577 million for China vs. €542 million for Latin America). This is a significant reversal for a very important market. The drop in value is a staggering 70%. Is there some clue as to what caused this?