A glance at Nokia and RIM's market values today shows that they are both valued below book. With respect to RIM,
The company's share price has collapsed in the past year, and it is now only valued at about $5.4 billion, down from $84 billion at its peak in 2008. Excluding its cash and the estimated value of its patents, RIM's device business and its 78 million subscribers around the world are in aggregate worth less than $1 billion to investors.
Analysis: RIM's new woes seen speeding loss of BlackBerry users – Yahoo! Finance
With respect to Nokia,
MKM: We are downgrading Nokia to Sell from Neutral following our U.S. retail Lumia model checks. We assume no value for the handset business and no value for the roughly four billion euros [about $5 billion] in net cash.
Nokia Suffers From Hang-Ups – Barrons.com
Three years ago the situation was dramatically different. RIM's share price was six times higher and Nokia's about four times higher. Here's what the market looked like in Q1 2010: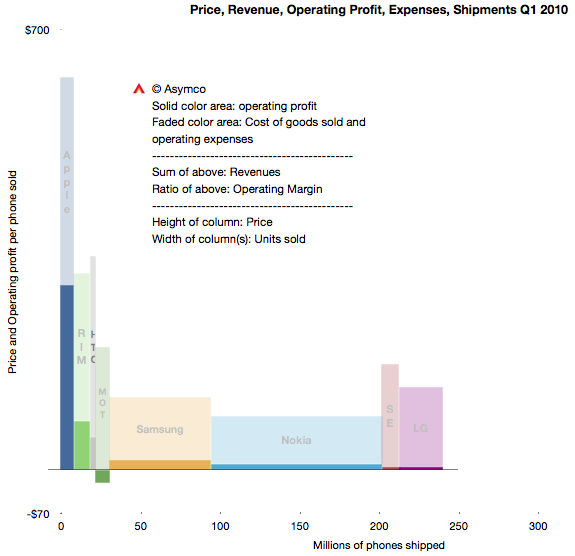 This summary view shows individual competitors in the phone market as well as their combined total volumes. The profitability/volumes/pricing can be visualized as well as margins and revenues.
The same visual summary is presented for the first quarters of 2011 and 2012 below: