ifoAppleStore's Gary Allen alleges that John Browett, head of Apple Retail, felt the stores were "too bloated". He cites "numerous tipsters" that Browett ordered a reduction in the number of employees. As the information on employees and visitors is public, we can quickly test the assumption.
The following graph shows the relationship between Retail employees and Visitors on a global basis.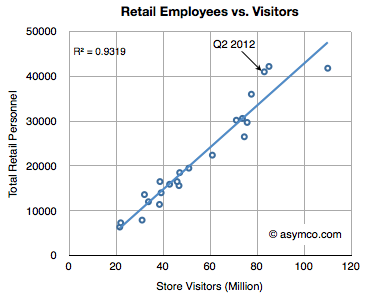 The total figure for the last quarter was 41,000 employees for 83 million visitors. This is above the expected ratio as shown by the line shown in the graph. Reversion to that line would imply that about 35,000 employees should have sufficed during that quarter.
However, Apple's business is cyclical and employment is not–or at least not on the same frequency of cycle.