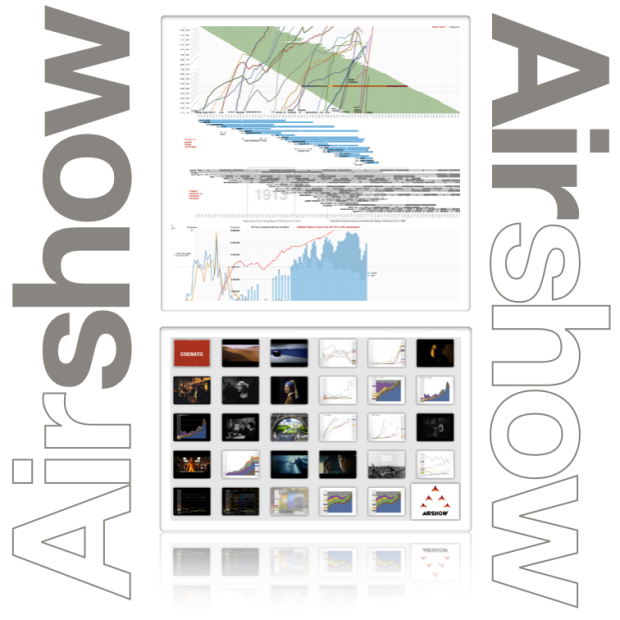 In a world where everyone needs to present, few know the power that lies under their fingertips.
Whether one-on-one or in front of millions on TV, presentations are the primary means of persuasion in business.
Have you ever cringed at text-only slides or puzzled over graphs that made no sense? Steve Jobs saw "PowerPoints" as "rambling and nonsensical" and had them banned internally. But he used visuals for all his keynotes. What made them tolerable, even persuasive?
The problem is that most people receive no training in how to compose the most crucial images they project to an audience and the tools available do not take advantage of motion, touch, processing power, mobility and high resolutions.
Airshow teaches principles of visual persuasion using techniques of cinematography and visual storytelling.
Airshow shows how tablets create a new stage for your performance.
Airshow applies Aristotelian rhetoric, Cinematographic theory and Cinematic storytelling as well as Tufte design principles into a new medium.
You'll learn how to:
Persuade with logic, empathy and credibility.
Present rich data as compelling and emotionally engaging
Get hands-on experience with modern tools of persuasion including tablets and interactive, touch-based interfaces.
You have the data. You have the audience. All you need is a story and a screenplay. How do you build them?
There are techniques which are proven to work. They've been used by writers, performers and playwrights for centuries. Professional presentation coaches will teach you far less and at greater expense.
Airshow is better and less expensive, especially in terms of time.
Airshow is an intimate experience. Audience size is limited.
All the tools and techniques needed in one day of intense, inspirational and engaging training.
Airshow could be coming to a town near you but to make it happen you need to act now.
Here's how it works: For every month in 2014 an Airshow event will be hosted. The location for that month will be locked-in when the first 20 registrations for that city will be recorded. Any registrations that take place before the location is locked-in will be half-price.
In other words, early registration means you get half off!1
Now is the time to learn presentation skills for the post-PC era. Just like there is no writing which does a movie justice, I can't write here how it's done, you have to see it live.
HERE'S WHAT PEOPLE SAY ABOUT AIRSHOW
"Airshow was amazing. Business stories with cinematic impact made easy with perspective"
— Paul Brody, Global Business Leader, IBM

"Airshow has fundamentally changed how I give client and industry presentations. It is an important tool in my toolbox which allows me to showcase my data and my story in ways that help audiences gain deeper insight and perspective."
— Ben Bajarin, TIME, TabTimes, Techpinions

"Nobody brings numbers to life like Horace Dediu does."
—Philip Elmer-DeWitt, Fortune/CNN

"The unhurried nature of Airshow is just terrific and in contrast to many other events. Anyone who goes will gain their own purposes."
—Steve Crandall

"Airshow is a treat […] showing how to make the audience wonder."
—Bertram Gugel

"Airshow is surpassing my expectations. Very interesting deep content."
—Ryan Singer, 37signals.
If your registration is not part of a quorum (fewer than 20 total) then it's automatically re-issued for the following month. You may also request a refund. [↩]