12 months ago I asked How many iOS devices will be produced in the next 12 months?
Based on the analysis of Capital Expenditures (as forecast by Apple in their annual 10K report) I concluded "iOS unit shipments should be between 250 million and 285 million."
The answer turned out to be 247 million.1 Including Apple TV the total would probably be around 251 million.
Since last year, I adjusted my model by observing corresponding iOS unit shipments for the calendar year corresponding to each fiscal year. Since the calendar year is offset by one quarter (FQ1 = CQ4) looking at calendar year means looking forward one quarter post-spending. I believe this is more accurate as spending generally happens in advance of production.
The resulting pattern is shown below: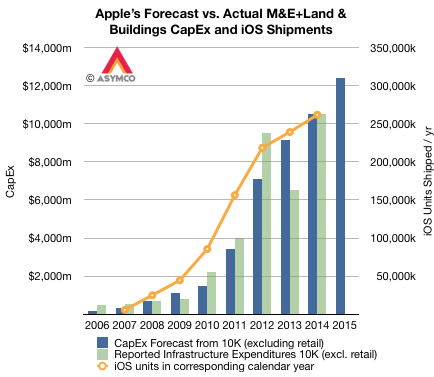 Continue reading "How many iOS devices will be produced in 2015?"
Including an iPod touch estimate of 9.5 million [↩]