I received a few questions from Shirley Siluk of NewsFactor as a follow-up to my post on the trajectory of successful companies.
1. Do you foresee any hope for a turnaround for Samsung? If so, where do its best opportunities lie?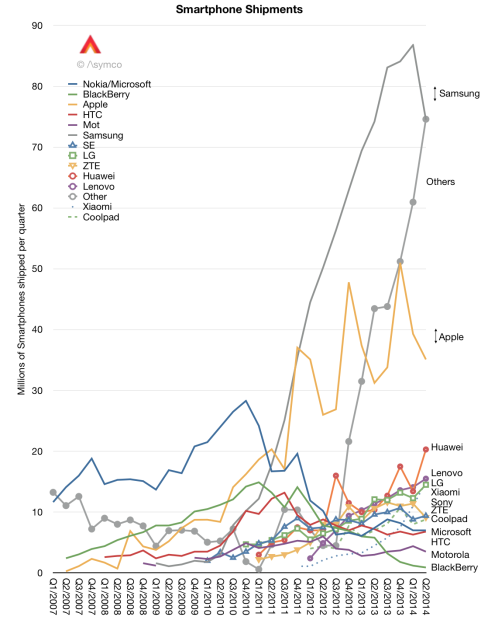 The smartphone business was a huge opportunity for Samsung and they took full advantage of it. Unfortunately, it's a difficult business to stay on top of. The list of victims in that industry is quite long and there have been no long-term winners. Samsung's operating model seems to be to invest as a 'fast follower' filling in the market after it's established while leveraging capital intensive components synergies. That has also worked for them in consumer electronics (at the expense of Sony and other Japanese vendors). If the modus operandi does not change then their turnaround will depend on the creation of new opportunities/categories. Wearables may be such an opportunity but it may not be as big as the phone business.1
2. What has contributed most to Samsung's decline? Which competitors are posing the greatest threat?
Continue reading "What next, Samsung?"
The graph shows estimates of smartphone shipments for a select number of vendors. [↩]