It was only a few weeks ago (at WWDC) that we had an update on the app store growth rates. The data was presented here.
One of the data points from the event was that iTunes hit 15 billion song downloads. Last week we heard that iTunes also hit 15 billion app downloads.
The milestones were reached within less than a month so it's a fairly safe assumption that apps have overtaken songs. I had originally guessed that the cross-over would take place at 13 billion at the end of 2010.
The actual performance is shown below (total downloads indexed to same starting date):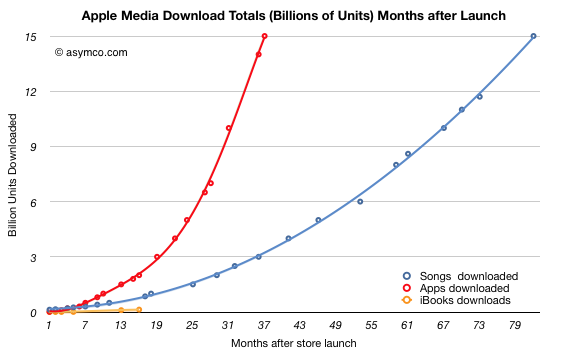 The 15 billion app threshold was passed within exactly three years while the 15 billion song threshold was passed in six years and 10 months. Shown on the actual time scale, the chart looks as follows: Continue reading "iTunes app total downloads (finally) overtook song downloads"