May 22, '15 4:40 PM
Horace interviews Anders about Goldman Sachs' investment in Internet finance company Circle and we take listener questions over Twitter.
May 22, '15 4:36 PM
Horace Dediu, current fellow of the Clayton Christensen Institute and founder of Asymco.com joined us for an epic and insightful discussion focusing on few key interesting topics: (a) new market disruption theories, (b) Apple in China and the luxury market and (c) the Japanese automotive industry and how it shapes up against disruption from Tesla, Uber and Apple. In the second part of the trilogy, Horace discussed how Apple has managed to navigate the Asian markets with a combination of building the best product and building strategic partnerships with patience and grow the market with the right timing of the correct localised product, for example, the iPhone 6 Plus. Horace also pushed against the notion that Apple is really entering the luxury market, by applying "Jobs to be Done" perspective (used by Bob Moesta in his interviews) to the issue.
Source: Episode 32: The Asymco Trilogy with Horace Dediu Part 2 – Apple in Asia & Luxury – Analyse Asia with Bernard Leong
Mar 27, '15 9:55 PM
Avea transforms your home with beautiful dynamic light moods. Control your ambience from your iPhone or iPad and unwind in one of the carefully crafted settings with subtly changing light.
After a relaxing evening, simply set your alarm using the built-in wake-up light scene. With Avea, rise and shine along a natural sunrise, right in your bedroom.
Avea connects directly to your iPhone or iPad using Bluetooth Smart technology, without requiring additional gateways or bridges. But it doesn't stop there: once you have chosen a light scene, the smart LED lightbulb will take care of the rest, not requiring a constant connection to your iPhone or iPad. Connect more than one Avea, and they will automatically coordinate their lighting to create an even more immersive atmosphere.
Supported Devices: iPhone 4S or later, iPod touch (5th generation), iPad mini or iPad (3rd generation or later); with iOS 7.1 or later
Transform your home with beautiful dynamic light moods
Control your ambience from your iPhone or iPad
Rise and shine with the built-in wake-up light scene
Direct connection using Bluetooth Smart technology
Connect more than one Avea to coordinate their lighting
Check out the video here.
Sponsored via Syndicate.
Mar 27, '15 9:45 PM
Back from the Apple Watch event, Horace gives his trip report discussing watch pricing and what we now know of how Apple intends to sell them. What cognitive illusions might come into play as people consider the watch?
Feb 12, '15 3:58 PM
Do you or your team need a detailed understanding of smartphone sales or installed base?
For example:
How many Galaxy Note 4s were sold last month versus iPhone 6 Plus?
What is the typical spec of a $150 Android smartphone?
Or any of a million other questions. If so Counterpoint can help. We gather model-level device sales for more than 3000 handset models from over 300 brands across 37 countries every month. We can customise our data to fit your operational needs.
We have a superb resource for: application developers; industrial designers; component vendors; the financial services industry or anyone else who needs to understand connected device market dynamics. Call us for more information.
Sign-up for one of our upcoming webinars.
Gain insights into what is driving the smartphone market through our analysis of the top 3000 smartphone models across 2014.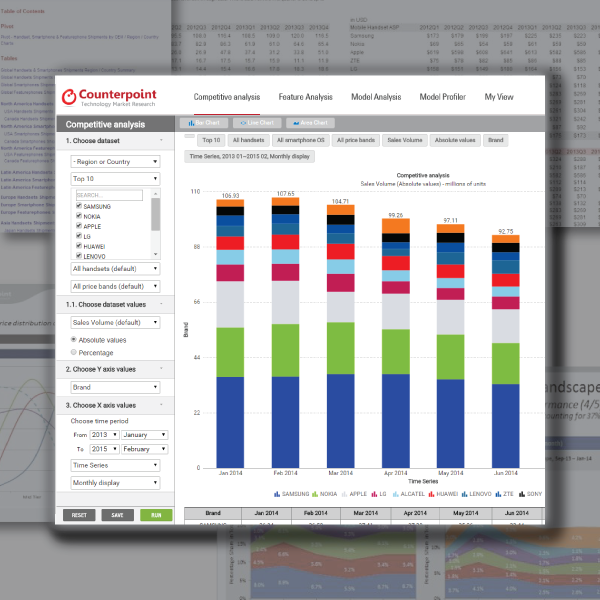 This post is sponsored via Syndicate
Feb 6, '15 5:53 PM
You've got the resources to ship great products – so what's holding your team back? Learn to make thoughtfully executed products beyond the MVP. The Craftsman PM Workshop gives you career-boosting insights into the breakthrough practice of Whole Product Management.
In just 2 days at the Craftsman PM workshop, you'll learn:
Exactly how to develop an actionable growth strategy beyond the MVP
A holistic way to thinking through the Whole Product model
Ways to solve complex product problems in half the time, at half the cost
Actionable metrics to improve customer engagement and retention
This workshop is designed for:
Product Managers, Marketers and Designers
Startup Founder/CEOs formalizing company product management
People transitioning into or seeking a Product Management career
"This training provided more takeaway value than any workshop or conference I've ever attended."             – Product Manager, NetSpend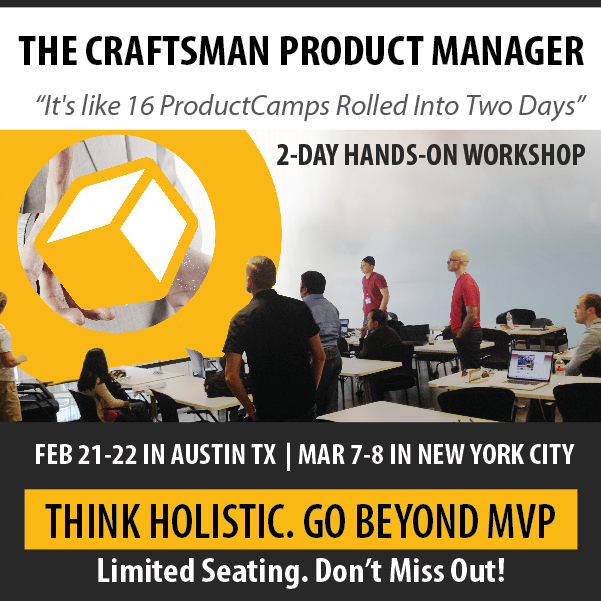 Dec 26, '14 6:47 PM
Integrate, deliver, track, and analyze with Mandrill, an email infrastructure service from MailChimp.
Mandrill is a scalable, reliable, and secure email infrastructure service that's already trusted by more than 375,000 customers. It's easy to set up and integrate with existing apps. And it's really fast, too. With servers all over the world, Mandrill can deliver your email in milliseconds. Use Mandrill to send automated one-to-one email like password resets and welcome messages, as well as marketing emails and customized newsletters. Mandrill is quick to set up, easy to use, and ridiculously stable. We made it for developers, who love documentation, integrations, high delivery rates, webhooks, and analytics. If you're not comfortable with code and APIs, we recommend finding someone who is before getting started.
Get started with Mandrill today.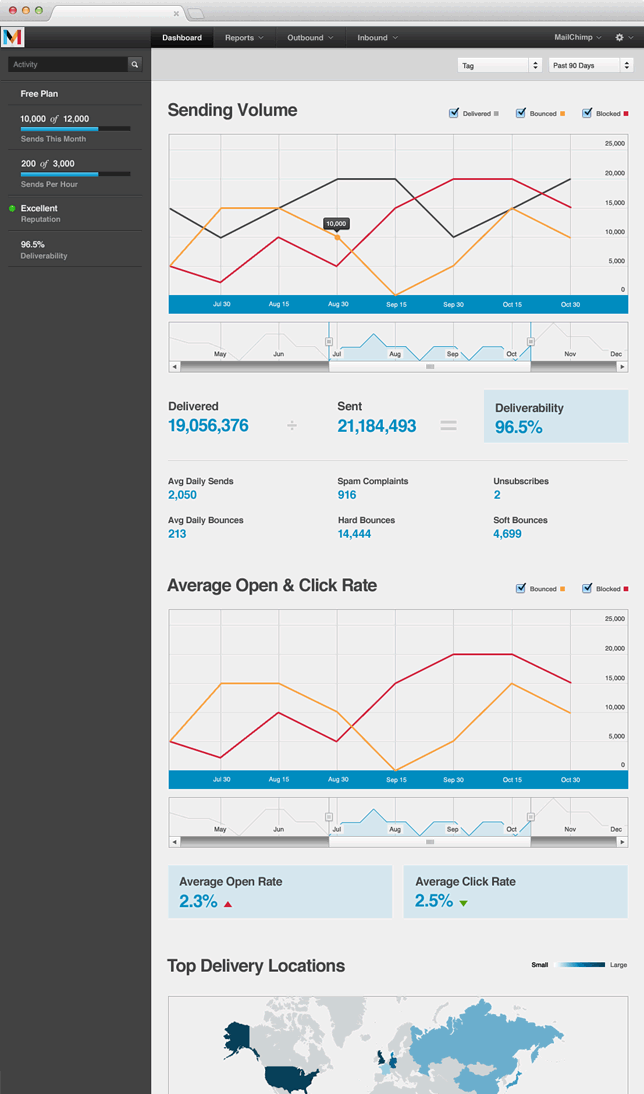 This post is sponsored via Syndicate.
Dec 26, '14 6:42 PM
As corporate romances go, IBM and Apple's must rank among the most unexpected. As I wrote on the date they changed their Facebook status, the two companies were antagonists for the better part of twenty years and their rapprochement was met with a shrug mostly because yet more decades passed since.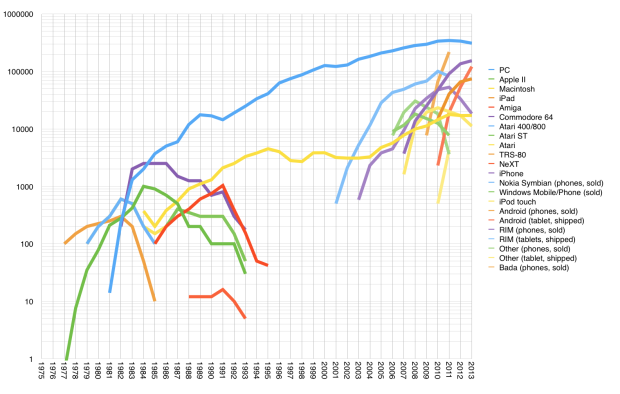 Nostalgia aside, this new union is profoundly important. It indicates and evidences change on a vast scale. The companies' antagonism was due to being once aimed at the same business: computing. Since the early 1980s, "computing" came to be modularized into hundreds, perhaps thousands of business models. It is no longer as simple as selling beige boxes. IBM was forced out of building computers and into services and consulting while Apple moved to make devices and the software and services which make its hardware valuable.
The convergence of interests which was consummated into a deal this year stems from the migration of computing around what has come to be called "mobile". Apple intends to accelerate the adoption of its mobile platforms among the remaining non-adopters: enterprises–a group which, by now, qualifies as laggards.[1] Simultaneously IBM intends to connect data warehouses at those same enterprises to their employed users.
Notes:
There was a time–when Apple was young–when enterprises were the innovators, early adopters. That role ended approximately in the year 2000 [↩]
Dec 8, '14 6:09 PM
Turning our focus back to "Jobs to be Done" theory, we look at how producers can exceed the expectations of consumers and the role of the focus group from a "Jobs to be Done" perspective.
We examine "Jobs to be Done" as an essential core of the product development process. Where does this kind of thinking belong in an organization?
Should we be redefining what being "the best" means? We close with a segmentation of social media services based on the seven deadly sins.
via 5by5 | The Critical Path #134: Chief Jobs Officer.
This is a good one.
Dec 4, '14 6:20 PM
Airshow, now in it's twelfth iteration, is coming back to Boston on the 18th.
This time we have Fidelity Investments as a sponsor and their inspiring venue at ThinkSpace, 245 Summer Street, as our setting.
If you are interested in how data and mobility will revolutionize the art of persuasion, please register for what will be the best Airshow ever.
Seating is limited.