Jun 8, '17 4:45 PM
SaneBox has partnered up with Asymco to bring you an exclusive $25 credit for new users. Just sign up through this link.
SaneBox is like a super-smart assistant who's been with you for years and knows what's important to you. It moves unimportant emails from the inbox into a new folder and summarizes them in a digest, where you can quickly bulk-process them. An average SaneBox customer saves 12+ hours/month.
Additional features:
SaneBlackHole – Instantly unsubscribe from annoying marketers, mailing lists and newsletters
SaneReminders – Get a reminder if someone doesn't respond to you
SaneSnooze – Snooze non-urgent emails
SaneAttachments – Automatically upload attachments to Dropbox, etc.
…and many more features!
With glowing reviews from TechCrunch, Forbes, The New York Times and emailers everywhere, you can rest assured that you will fall in love with email again. And it's risk free—cancel and your email returns to the way it was.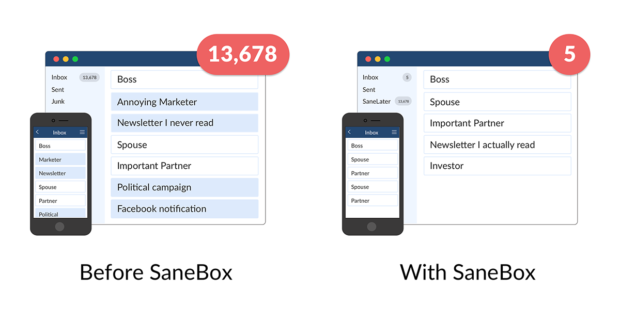 Jun 7, '17 2:17 AM
The App Store is almost 9 years old. In that time it has generated about $100 billion in revenues, of which about $70 billion has been passed on to developers and $30 billion was kept by Apple. It's very likely that running the App Store for 9 years did not cost $30 billion so, if it were an independent "business unit" it would probably have been and still be quite profitable.
But Apple does not run "business units" with separate Profit and Loss statements. The App Store is a part of Services which is an amalgamation of non-hardware sources of revenues but that does not mean it's a business. The purpose of Services isn't to turn a profit or define its value through some metric of financial performance.
The purpose of Services is to make the experience for the Apple user better. The combination of good experiences allows Apple to be perceived as a valuable brand and that allows it to obtain consistently above-average profitability through pricing power. I like to emphasize that the iPhone at over $600 in average price is more than twice the average price of all the other smartphones and captures over 90% of all available profits.
This is something that remains after a decade and indeed the price is rising in the face of overall price erosion, all without a decrease in volumes. The sustainability of this exceptionalism is due to no one single thing. It's due to the persistence across all the things Apple does: product, stores, software and services and many other details too numerous to count.
The result is a large and expanding base of satisfied customers and a large and expanding base of partners both in hardware and software and services. The WWDC event this year showed how the ecosystem of Apple is booming with over 3 million new developers and Keynote screenfuls of partnerships. All this makes for a complex picture but it's a real picture.
The latest numbers on Services try to tell this story: 180 billion App downloads from 500 million App store weekly visitors. The download rate is accelerating as shown in the following graph: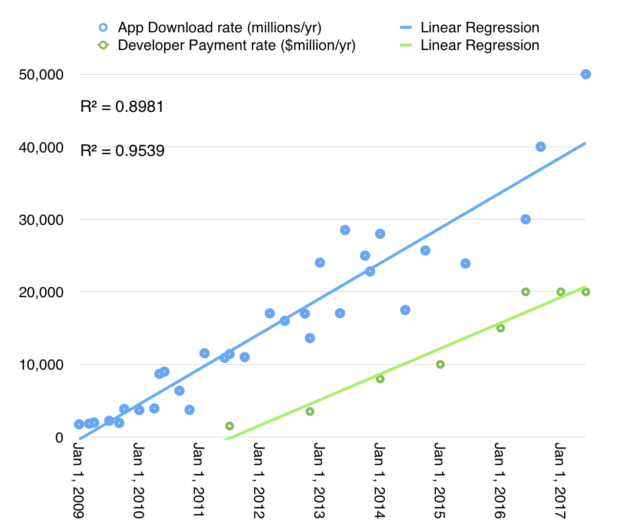 The revenue or payment rates can also be shown as accelerating though at a different rate. In both cases, the story of apps is not yet over, regardless of commentary to the contrary. Much of this growth comes from new markets like China and as India joins the iOS world, there is yet more opportunity emerging.
This enables part of the story of Services which can be tracked with several other metrics: reported revenues, iCloud accounts, active devices, and iTunes accounts are highly correlated.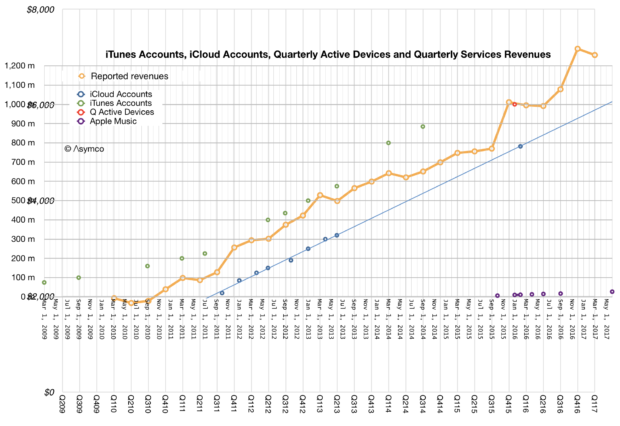 The patterns after a decade are remarkably consistent. One would have thought that with mobile saturation in advanced markets, the content story would be told through horizontal lines. What we still see is the same slopes we've seen since the earliest days.
But the biggest story at WWDC was the re-design of the App Store as a curated content market. The changes are profound: discovery, curation and the surfacing of content have been revamped. It's hard to predict the implications of this but one of the indications of direction was the separation of "Games" from "Apps". This is a jarring idea since if all Apps are content, what makes Games different from other Apps? Is this a genre elevated to a new medium?
I can't yet get a sense of where this is heading, if anywhere, but the remarkable story of Apps is that it's still an ongoing story. We may be on chapter 2 and we can't predict how many chapters remain.
Keep an eye on Apps and Services and developers. They are not lagging indicators of success for Apple. They are very much leading.
May 11, '17 1:59 PM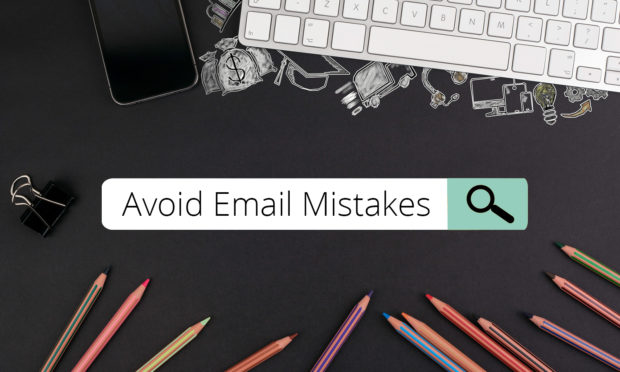 Given the volume of emails sent and received each day, it's not surprising that mistakes are made once in a while by everyone.
Sending a message to the wrong person or replying all is one of the leaders among email errors. Then, there are forgotten file attachments and unprofessionally looking email signatures. The list goes on.
To avoid or at least reduce the number of email mistakes, you need special tools that optimise email experience. You will find them in MailButler.
With MailButler you get reminders about possibly omitted email attachments. Also, thanks to the Undo Send feature, you can recall and correct outgoing messages after they have been sent. Great email signatures are available in different designs. Furthermore, with MailButler you can schedule and snooze your emails, get detailed read receipts, and put your inbox on pause.
Check out how MailButler turns email into an effective tool of communication.
May 11, '17 1:40 PM
Predicting Apple's yearly revenues has been fairly easy. The following graph shows the relationship between budgeted spending on Machinery, Equipment, Internal-use software, Land & Buildings and the shipment of iOS device revenues.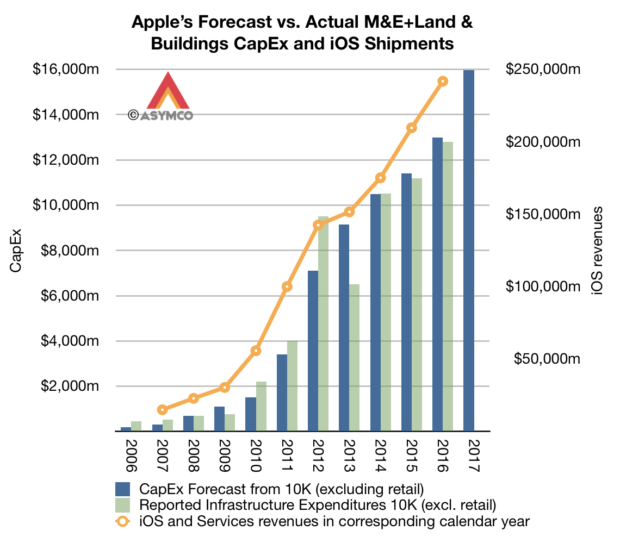 The company conveniently publishes a full-year forecast of these expenditures every fiscal year so by October we know roughly how sales will be during the following year. This pattern has held for 10 years so there is little uncertainty about the 11th year of iOS devices.
Apr 20, '17 11:03 AM
The last quarter of 2016 was Apple's biggest ever. $78.4 billion in revenues. 78.3 million iPhones. Both records. Earnings of $3.36[1] and cash reached new highs. The growth was modest but Services is now not just the second largest revenue but also the fastest growing, on track to doubling in four years.
The reason for this is the vastness of Apple's user base coupled with the loyalty the brand engenders. The company reached one billion active devices more than a year ago and is quite likely to have nearly a billion users. Not just any billion either–the best billion most probably.
The realization that Apple benefits from extreme quantity and quality of customers has led some observers to defer the imminence of Apple's demise. Share prices have risen lately to new highs and the ratios between these prices and earnings have started to come closer to the average of other large companies.
But enough with the reductio ad absurdum. Let's look at the next quarter. The company has been very precise with its own offered predictions (guidance) so it's a simple task to make an accurate forecast. The history of guidance vs. outcomes for revenues is shown below: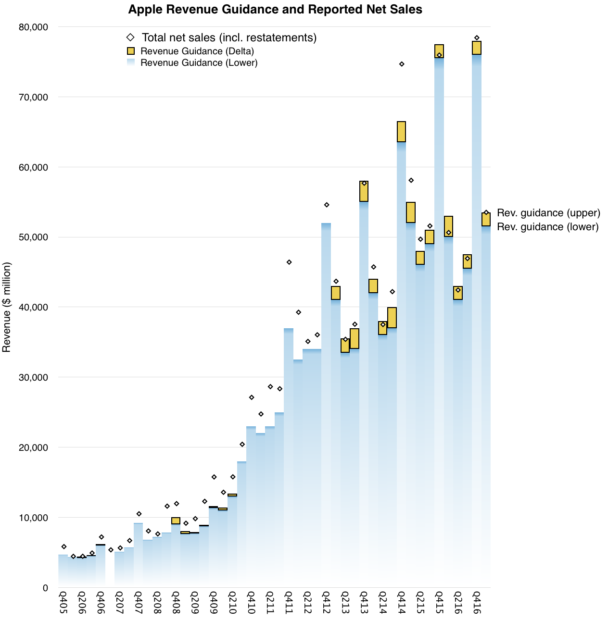 Placing the pipper on the upper edge of the guidance range was a safe targeting method for 11 of the last 17 quarters. We have never seen a drop below the bottom of the range but had a few overshoots, some huge. Doing this for the latest quarter and working backwards to the individual product contributions to revenue and using historical margin and cost patterns we can get the following core financial performance metrics:
Fiscal Q2 2017:
Rev ($B) 53.4
EPS ($/share) 1.96
iPhone (thousand units) 53100
iPad (thousand units) 9900
Mac (thousand units) 4100
Watch (thousand units) 2300
Services ($ million) 7129
Other products ($ million) 2300
Gross margin (%) 37.8
I sent these estimates to Philip-Elmer DeWitt and I recommend looking at his survey of the other analyst estimates on his excellent Apple 3.0 blog.
Overall, the quarter is shaping up to offer slight growth y/y and indicating a plateau formed after the surge from the iPhone 6 surge in '15. All eyes are on the "super cycle" for the next iPhone.
The reason it's "super" is that the iPhone has a 2+ year cadence for form factor changes and the user base updates on a similar cycle. The demand is vast due to the user base and accumulated age of devices in use. Expectations are that supply will be offered to meet this demand.
If history is a guide then the next iPhone will be the best iPhone ever.
Notes:
On shares priced at the time around $105 or 3.2% yield quarterly earnings [↩]
Apr 6, '17 7:22 PM
In September 2016 Apple Pay came to support the world's largest public transit system. It happened through the integration with Japan's FeliCa and gave Apple Pay access to 160 million daily transactions.
This, along with many other milestones don't get a lot of attention. Apple Pay is in what could be considered an attritional competition with non-consumption. There are no decisive battles won or lost, only the relentless pressure to make progress against a reluctance to change.
Before I go on, I should make the attrition/decisive type of conflict clear. The terms come from military science. A war of attrition is one where two sides essentially grind against each other and the winner is the one which lasts longest. A decisive battle is one where a conflict is won through a single, acute encounter where, due to either demoralizing or circumstance reasons, one side gives up. It's the knock-out punch vs. the fight to exhaustion.
When applying this dichotomy to competition, we need to be careful about who we define as competitors. Note that I said that Apple Pay is in a fight with non-consumption. It's tempting to say Apple Pay competes with some other payment system like Samsung Pay or Google Pay. But none of these alternatives are as powerful as the existing mix of contact payment systems: cash, credit card magnetic swiping and some other hybrid of codes and user experiences (especially online.)
When seen this way the challenger must compete through persistence. It's impossible for Apple Pay to decisively defeat non-consumption in one battle. It takes literally millions of decisions for adoption: each consumer, each merchant, each bank, each point of sale. It's a relentless grind of pitching, selling, demonstrating and shaming into action.
It's been three years of this type of competition and progress may seem hard to spot. That is because we don't see the big wins. We can only see small wins. The win in Japan, as significant as it might be (160 million daily transactions added to the addressable market) is still small compared to all transactions world-wide.
Mar 24, '17 8:03 AM
Many of you have already heard about the productivity-boosting Mail plugin MailButler. Email scheduling, detailed read receipts, amazing signature and message templates, and various cloud services integrations are among MailButler's numerous features.
Recently MailButler has released its new Business plan, which includes even more functionalities.
Advanced Tracking allows to see when, where, how often, with what kind of device, and in which email client your messages, links, and attached files have been viewed.
Person Insight provides the sender's detailed information, such as social media profiles, affiliations, etc.
Finally, using a convenient dashboard, team managers can assign roles and tasks to team members, watch their activity and usage statistics, as well as share custom signatures or message templates.
MailButler Business can be customized to each team's individual needs. It opens up completely new horizons, and is totally worth a try! For more information, see MailButler Business page.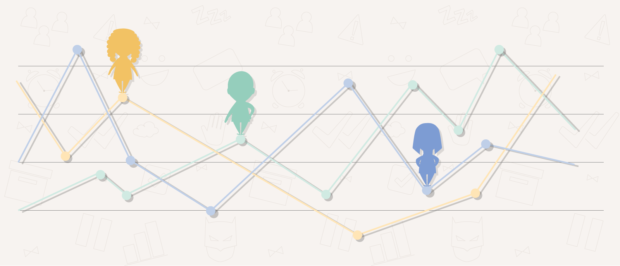 Mar 24, '17 7:56 AM
The iPad has an installed base of over 300 million. This is a far larger audience than that of the Mac (which has somewhere between 100 million and 150 million). And whereas the iPad acquired this audience in about 7 years, the Mac took 33 years.
Curiously however, it is the iPad that is seen as the more fragile product. The iPad is considered to be failing, with a presumption of an end of life in the near future. The evidence of this failure the year-on-year decline in units sold. This is illustrated by the following graph.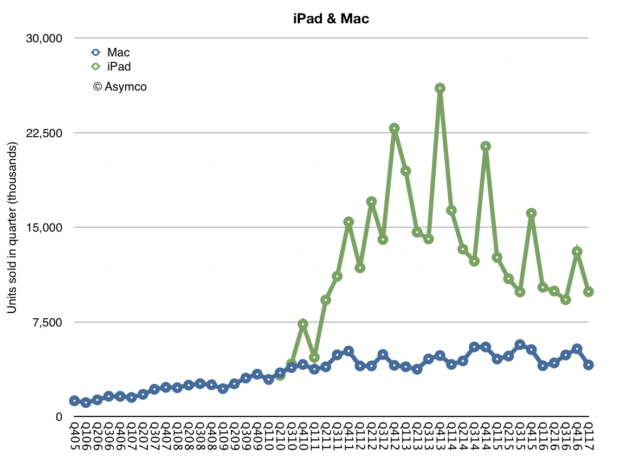 Note that the iPad decline is paired with a steady increase in the Mac. The iPad exhibits a four year decrease in overall volumes. This has, as they say, bad optics.
But what is seen isn't all that might be,
If we look further we see that the iPad is still a much loved and much used product. Data from the Pew Internet Survey shows that tablet ownership among US adults increased from 45% in April 2015 to 48% in April 2016 and 51% in November 2016. The rise has been steady. Although this counts tablets, the iPad had 85% share of the U.S. market for tablets priced above $200 so it's a fair assumption that the iPad audience is growing. Similar data exists for the UK.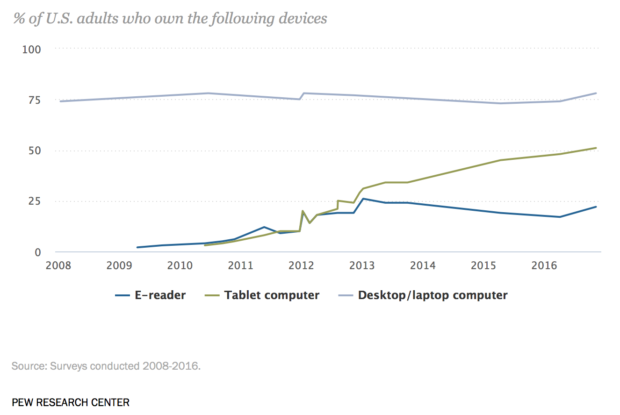 In addition, user satisfaction with the product continues to be very high. Apple cited that in November, 451 Research measured a 94% consumer satisfaction rate for iPad Mini, a 97% rate for iPad Air, and 96% for iPad Pro. Finally, browsing, shopping and app usage data also show continuing high utilization for iPads.
Furthermore, iPads are still growing in "non-consuming" markets. iPad posted double-digit growth in both Mainland China and India, it continues to attract a very high percentage of first-time tablet buyers.
Finally, within corporate buyers there is a 96% satisfaction rate with 66% purchase intent. Apps and solutions are continually being developed for the platform.
Taking into account that the iPad has a large, stable, engaged and loyal user base that continues to expand and find new uses the optically bad sales data needs an explanation. The simplest explanation is probably the best: iPads remain in use far longer than phones, and perhaps even longer than some computers.
Anecdotally we can see evidence for this. Few iPads are replaced every two years the way phones are. They are not tied to service contracts or subsidized. They are also less likely to be damaged during usage as phones are dropped and banged-up. iPads are more stationary or carried in protected containers. Phones are in pockets, iPads are in bags.
So iPads are longer-lived products and it's perfectly reasonable that people who have them keep using them and more people are joining them but slowly. Note also that the decline in sales seems to be flattening out and perhaps might show stabilization.
Further countering of the iPad in decline idea is the continual improvement in the product. The latest is a refresh of the iPad with more battery life, a better screen and support for Pencil.
Perhaps the iPad will not return to rapid growth, or perhaps it will. But the more likely possibility is that the iPad will level out maintaining steady levels and, perhaps, grow slightly. This flat rather than up/down trajectory is unusual in devices but it isn't when you look at the Mac. And isn't the goal of the iPad to become a computer?  If so then perhaps Mission Accomplished.
Mar 16, '17 5:10 PM
SaneBox is like a super-smart assistant who's been with you for years and knows what's important to you. It moves unimportant emails from the inbox into a new folder and summarizes them in a digest, where you can quickly bulk-process them. An average SaneBox customer saves 12+ hours/month.
Additional features:
SaneBlackHole – Instantly unsubscribe from annoying marketers, mailing lists and newsletters
SaneReminders – Get a reminder if someone doesn't respond to you
SaneSnooze – Snooze non-urgent emails
SaneAttachments – Automatically upload attachments to Dropbox, Evernote, Box, etc.
…and more features to enhance your existing email setup
With glowing reviews from TechCrunch, Forbes, The New York Times and emailers everywhere, you can rest assured that you will fall in love with email again. And it's risk free—cancel and your email returns to the way it was.
We've partnered with Asymco to bring you a $20 credit for all new sign ups!