On July 3rd, Elon Musk handed over the first 30 Model 3s and tweeted
"Production grows exponentially, so Aug should be 100 cars and Sept above 1500."
He added,
"Looks like we can reach 20,000 Model 3 cars per month in Dec".
In 2016 he stated
"So as a rough guess, I would say we would aim to produce 100,000 to 200,000 Model 3s in the second half of [2017]. That's my expectation right now."
He confirmed this estimate early in 2017
"Our Model 3 program is on track to start limited vehicle production in July and to steadily ramp production to exceed 5,000 vehicles per week at some point in the fourth quarter and 10,000 vehicles per week at some point in 2018."
Overall 2018 production guidance has been 500,000 units and 1,000,000 units in 2020.
The company shipped 220 Model 3s in the July, August and September months. This is well below the expectation of 75,000 that the 2016 guidance would suggest1 or the 1,630 that might be suggested by the "production grows exponentially" July proclamation.
I entered the Q3 production data and kept the previous run rate predictions for Q4 and 2018 and 2020 in the following graph.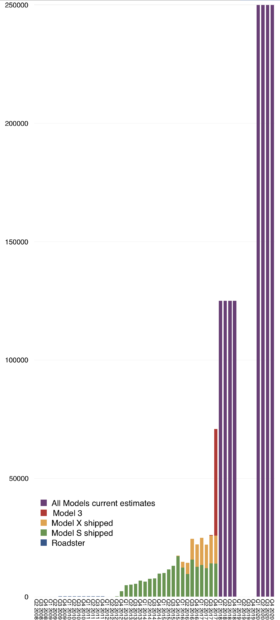 100,000 to 200,000 for the second half of 2017 suggests an average of 150,000 for the six months or 75,000 per quarter [↩]