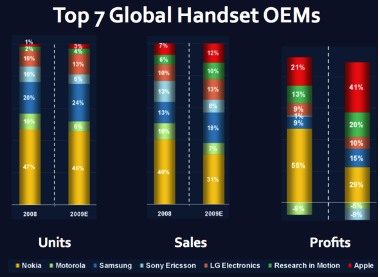 I calibrate my growth rates on the assumption that Apple will overtake the combined share of the two money-losing handset vendors.
Sony Ericsson and Motorola are the weakest competitors in terms of portfolio and competence with software. Their sales, units and profits shares for 2008/2009 are shown in the graph above (source: Morgan Stanley).
Therefore, my thesis is that Apple could beat these two weakest competitors in 3 more years.
Here is the basic top-down view:
In 2009 174 million smartphones were sold out of a total of 1.13 billion phones (IDC, Strategy Analytics). Using a 10% CAGR on this figure gives 1.65 billion phones in 2013
Apple obtained 2.1% share in 2009 and about 1.5% share in 2008. My forecast share for Apple:
2010: 3%
2011: 4.1%
2012: 5.5%
2013: 7.5%
During the last quarter, Sony Ericsson held 4.5% share and Motorola 3.7% therefore my 2013 target for Apple is a little less than the sum of what these two hold today.
This results in unit sales for Apple of 125 million units for 2013 and a compound annual growth rate of 50% a year.