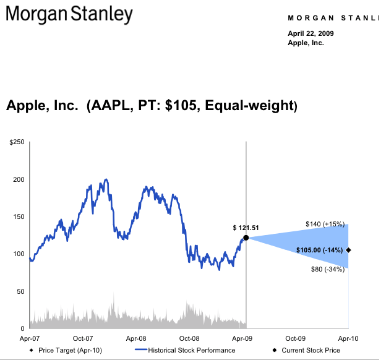 10 months ago Ms. Huberty released her price target for April 2010 (see graph) at between $100 and $105. The stock was trading at $121 then and her forecast was for a 14% decline.
She wrote:
Investment Conclusion: The combination of a March quarter beat and positive management tone is likely to keep AAPL shares in its recent trading range. Valuation is not stretched by any means but at 21x our adjusted C09 EPS, the market already assigns AAPL a 16% premium to RIMM which credits AAPL for lower risk given its large cash balance and a more diversified revenue model. We remain Equal-weight AAPL shares.
We note that the stock is currently trading above $200 at a P/E of 19x. She had forecast a price of $100 on a P/E of 21x Calendar 2009 Earnings Per Share. The implication is that EPS would have been $100/21 or $4.7 for calendar 2009.
She already had one quarter of data ($1.79 for CQ1) therefore she forecast $4.7-$1.79 = $2.97 for the remainder of the 2009 calendar year.
In reality, Apple earned $10.24 for 2009 and $8.45 for CQ2 through CQ4. That makes her error ($8.45-$2.97)/$2.97 = 184%.
We see today that she has a new forecast for $225 a share which leads us to conclude that she still has a job.